The Rwenzori or Ruwenzori Mountains are located in the Kasese District in south-western Uganda on the east side of the Albertine Rift Valley. The Rwenzori Mountains were designated a Unesco World Heritage Site in 1994 due to its abundant beauty.
On our photo tour to Uganda, with Triple F Photo Tours, we make sure that the Rwenzori Mountains are on our itinerary. 
WHETHER YOU TRAVEL SOLO, WITH YOUR FAMILY OR AS A GROUP, THERE IS ALWAYS SOMETHING TO ENJOY IN UGANDA
In my opinion, this highly under-rated area is one not to be missed when visiting Uganda. Solo travel, family trip, or even going to Uganda on a  group tour. There is something for everyone to enjoy.
THE MOUNTAINS OF THE MOON SHINES FROM THE SNOW-CAPPED MARGHERITA PEAK
The Rwenzori Mountains, commonly referred to as the Mountains of the Moon, are due to their highest snow-capped peak at an altitude of 5,109 meters. The highest peak is called Margherita Peak, which lies on the mountain's highest point, known as Mount Stanley. On a clear day, you can see the snow-capped Margherita shining in all its glory from the ground.  
Would it surprise you to learn that Uganda is home to six of Africa's tallest peaks, all of them residing on the Rwenzori Mountains?
Hikers will come to Uganda just for the sheer climb of the Rwenzori Mountains. While it might not be as high as Everest or the Himilayas, it definitely can prove to be more difficult due to the high levels of rainfall that happen, more than anywhere else on the continent. Combining the fantastic flora that exists and the tropical glaciers that develop, and the muddy conditions make it a challenging climb.
When I was there in 2019, I met a couple who were frequent climbers, spending all their vacation time travelling from mountain range to mountain range across the world. They had climbed Everest the year before and claimed that the Rwenzori Mountains were more difficult and treacherous to climb while also being a wholly beautiful climb at the same time. They told us how it felt to stand at the top of the snow-capped mountain and feel that they were in a divergent land, remote and peaceful, and it did not feel they were in Africa. They could not believe the view, and it was hard for them to explain. Being a photographer, of course, I asked if they had any photos to share. Sadly, a camera was the one thing they did not care to carry as they said it was too cumbersome and needed to pack light. They also expressed their memories were enough for them. Of course, I could not relate.
THERE IS SO MUCH MORE THAN HIKING IN THE RWENZORI MOUNTAINS
I, myself, am not a hiker, but I did manage to make it to the base camp, which was not an overly difficult climb. However, that would be it for me as it was lovely to see the sheer beauty of the mountain from up close. My legs were screaming, so we made our way back down through the national park at the base of the mountain, where we were blessed with the rivers and waterfalls fed from the melting snow of the mountain. 
We also searched high and low for the rare three-horned chameleon, but of course, I never saw it. My guide and friend, Venex Watebawa of Rwenzori Safaris, grew us in the Kasese and nearby the Rwenzori Mountains, so he told me that he usually has no issues finding them as they are a common nuisance to the locals. Being from Canada, I saw them very differently, of course.
VISITING THE LOCALS GIVES YOU SO MUCH MORE ON YOUR TOUR OF UGANDA
While staying in Kasese, we got to see life up close through the eyes of the locals. We met the local coffee growers and saw the picking and roasting process. Coffee is one of Uganda's major crops, alongside bananas, cotton, and tea, to name a few. Sadly, the growing and cultivating of coffee are being affected by climate change, affecting almost 2 million small farmers. While coffee collectives do exist now, sadly, the local coffee grower does not always benefit, and worse, other countries such as Kenya sell Uganda's coffee under their label.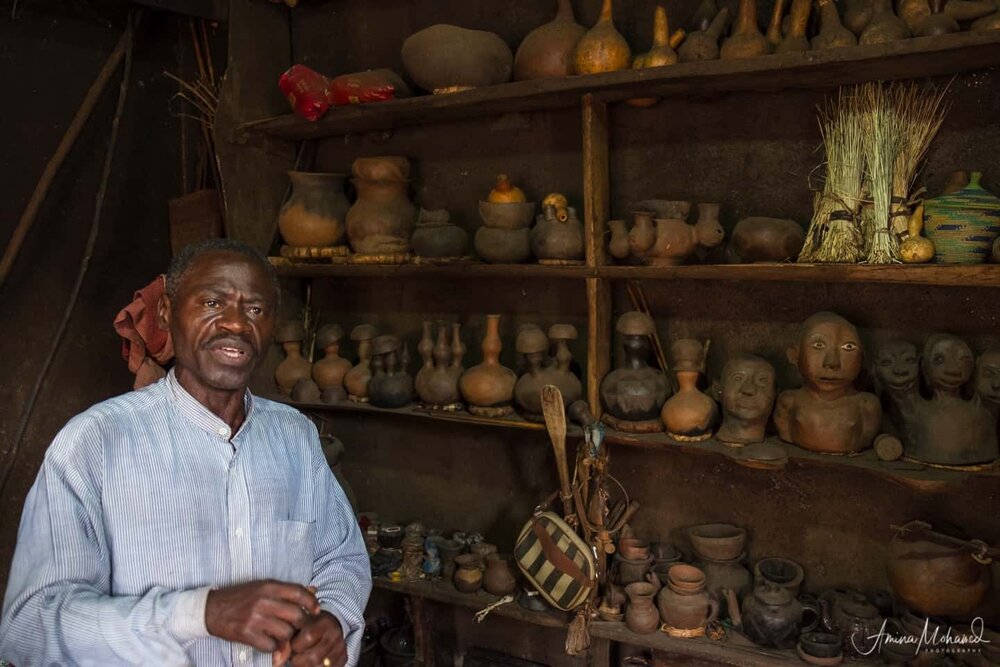 We also met a man in his 40's; however, due to the hardships of life, he looked closer to being in his 60's. He was one of the founders of the Uganda Wildlife Authority. However, he had been pushed out long ago and now was subsisting on small farming and selling his mother's pottery out of their small shed. Through that pottery and the small coffee farming, they were supporting a family of six people. I could not imagine how they made it work financially.
DON'T MISS THE DIVERSE REGION OF KASESE ON YOUR TRAVELS THROUGH UGANDA
Kasese is also home to Uganda's largest copper mine, known as the Kilembe Mines. While driving through the area, we saw men, women, and children hammering the rocks to mine the copper and underlying cobalt ore. They pound rocks all day for a small sum of money, while the government receives royalties on the extracted minerals and taxes from the Kilembe Mines business operations.  Out of respect, I did not take any photos as I am a firm believer in not exploiting people for a photo.
I might be naïve; however, imagine if the people who did the work would get what they deserve? How could life be different for the poor? How could they educate, feed, and clothe their children? Give them a better life? How could they climb out of debilitating poverty? How could a developing world change its status? 
Sadly, I don't think I will see that in my lifetime.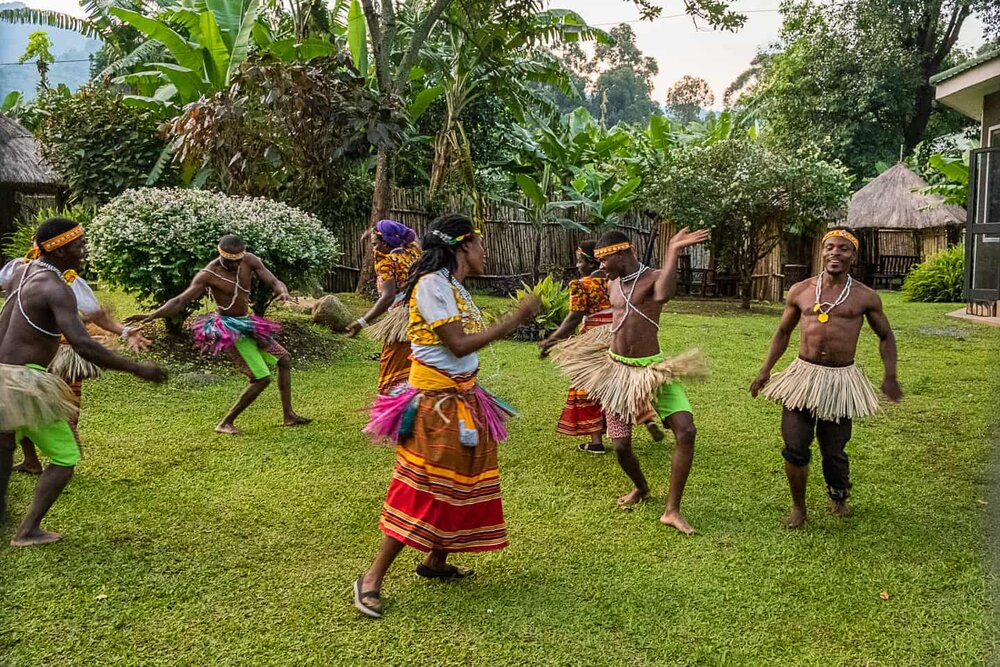 DANCE WITH THE BAKONZO TRIBE IN THE RWENZORI MOUNTAINS
Finally, on our last night in Kasese, we were treated to a dance recital by a local dance troupe called the Bakonzo Tribe, who come from the Ruboni village at the foothills of the Rwenzori Mountains. They travel around the country celebrating their culture. I not only enjoyed watching them dance but got to partake in dancing with them, and after three back surgeries, I was happy I could keep up with them.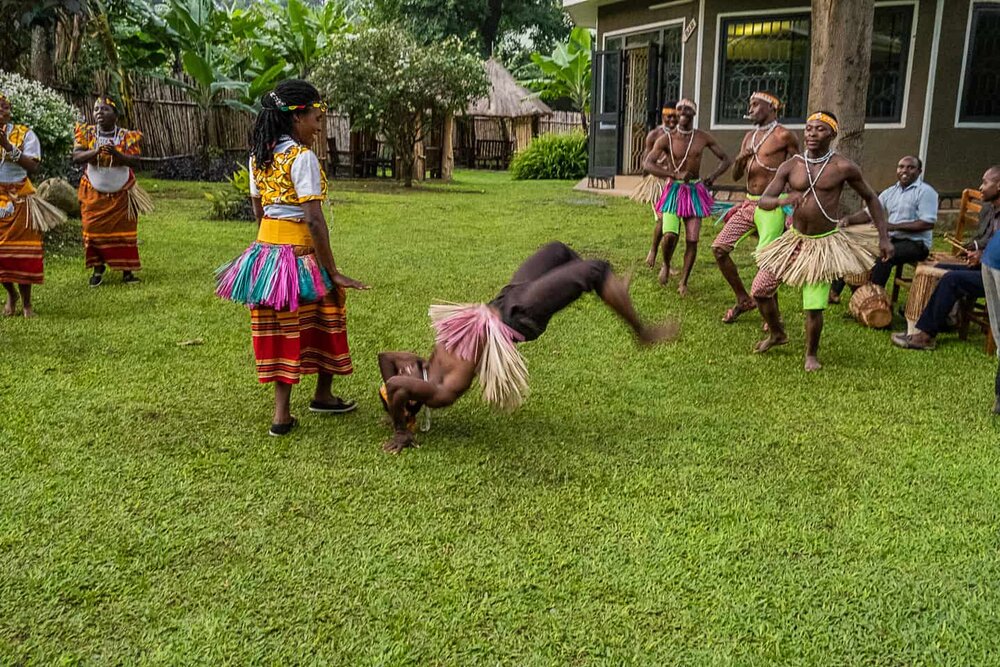 You might come to the Rwenzori or Ruwenzori Mountains for hiking, but there is much more to experience, so make sure you take the time to immerse yourself in the local culture of Uganda. Uganda is home to 54 different tribes so there's lots to learn about the different tribes and their ways of expressing themselves through their dance, their way of dressing, and their distinct dialects. You will return home with not only your hiking dreams satisfied, but you will get a real insight into the local people and how they live.
We go to the Rwenzori Mountains on our photo tour to Uganda. We are currently preparing our itinerary for our next tour. Check us out at https://www.triplefphototours.ca/itinerary.