When it comes to choosing my camera and gear for Uganda photo tour , I choose to pack lenses that will enable me to shoot in various situations, such as portraits, street photography, and of course Safari photography are trending now a days. Let me help you on how to choose Camera gear & lenses for Uganda wildlife photography .
Having had 3 previous back surgeries, I choose to pack the lightest possible gear but also gear that will serve me in multiple situations, such as the aforementioned scenarios.
REASONS I LOVE TO SHOOT WITH FUJI X SERIES AND LENSES
FOR WILDLIFE PHOTOGRAPHY
I have been an avid Fuji X-Series shooter since 2017, when I switched from Sony, and previous to that I was using Canon. I love Fuji for a few reasons, such as the ease of the buttons, the way the camera feels in my hands, the color rendition and different film looks, I am used to from the days of shooting Fuji Film (only possible when shooting JPEG) and most of all for the images I get right out of the camera and gear for Uganda photo tour .
I currently own the following lenses: the kit lens XF 18-55mm f/2.8; the XF 80mm macro lens f/2.8; the XF 50-140mm F/2.8 and finally the XF 55-200mm f/3.5-4.8. Which other camera brand gives you a kit lens with an aperture of f/2.8? I might be wrong but I don't think any of the other brands do.
I chose to pack the kit lens, XF 18-55mm (as it is a cropped sensor of 1.5 it is a 27-75mm focal length) and the XF 55-200mm (which becomes 75-300mm). I would love to have the XF 100-400mm f/4.5-5.6, but the weight of it is too much for me to handle in the field unfortunately and it's also one less stop of light than my XF 55-200mm, although it does give a much longer focal length, thus lots of trade-offs for what you want.
The benefit of the XF 55-200mm is that it is considerably lighter in weight and still gives me excellent images, even at f/3.5-4.8. Granted I will miss shots in lower light situations, but I am not shooting late in the evening or night in Uganda so it's not a huge miss for me.
The other benefit of the XF 100-400 lens is that it is a red badge lens, which means that it and a few other of the XF lenses can be paired with a teleconverter to make it even longer but again you lose stops of light, which in my opinion is super important when shooting wildlife and birds in Uganda.
When we go on our photography tours to Uganda, I see a variety of different lens combos and it never surprises me that many beginner photographers travel all the way to Africa with only their cell phone or a point & shoot and expect to get amazing shots, which hardly ever happens.
On my last safari in 2019, I also carried the Fuji XT-3. It was a great combo to work with in the field. 
On my trip in 2018, I had the XT-2 and upgraded just before leaving on my 2019 trip. I have not upgraded as of yet to the XT-4 although it's in the plans.
So why upgrade my camera?
I am not a gear head and I don't always have to have the best safari camera but I currently have the Fuji XH-1 as I love the IBS (In-camera body stabilization) that is not in the other cameras I have had and now that the Fuji XT-4 has a better sensor and the IBS, I will look to upgrade. The sensor in the Fuji XH-1 is the same as the Fuji XT-2 so it's time to go big or go home.
The following images were all taken with either the Fuji XT-2 OR Fuji XT-3 and the XF 55-200 on my safari to Uganda.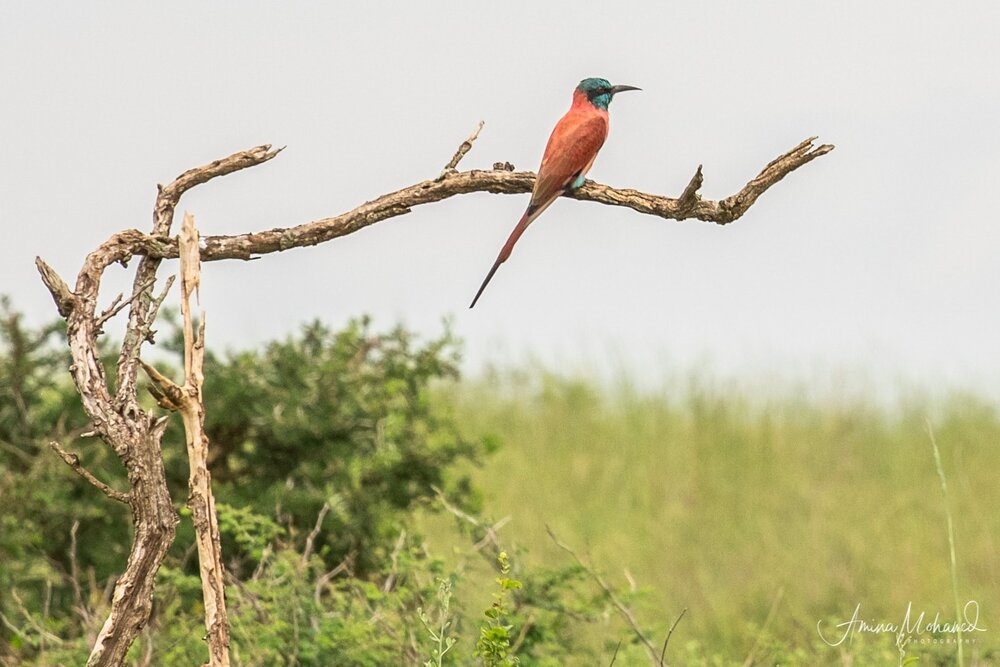 We were quite a few feet away from this bee-eater but I was able to get a good sharp shot with my XF-55-200 lens and my Fuji XT-3 combo. I did not use any filters that day.
Here I am shooting with my Fuji XT-3 and XF 55-200mm lens as a lion approached from the side.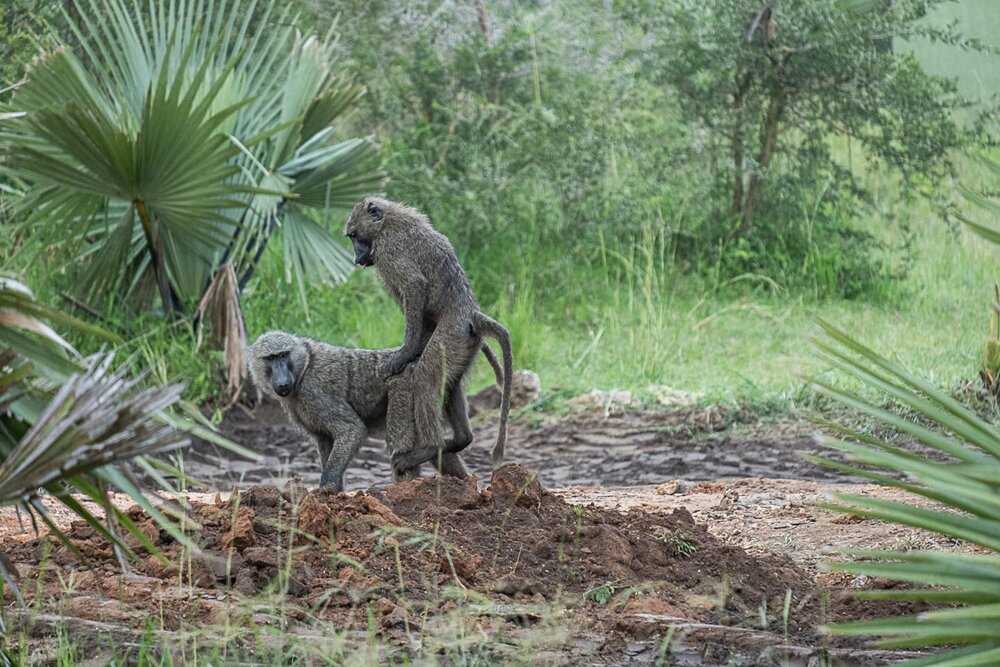 I could not have gotten this shot without a long lens, such as the amazing XF 55-200mm, which I handheld, while sitting in the vehicle as you cannot or should not get out close to the animals as it stresses them out and can also be dangerous for you.
This young giraffe was at least 150 ft away from me as I stood in the tall grasses of Lake Mburo National Park. I had to approach carefully and quietly as I did not want to spook it and make it run away. I got off a few shots before it and mama bolted away.