Almost everyone has heard the saying "beauty is in the eye of the beholder," and when it comes to travelling, I say this is true because regardless of where you go, what you see, who you meet and what you experience culturally, there is always something to explore in this big and beautiful world of ours.
Travel Opens Up Your Eyes to the Different Cultures That Exist
Having been born in the UK, lived in Uganda until I was three and growing up in Canada, I have come across many diverse cultures in my life. Living in Canada and growing up in a small town, I did not see many people who looked like me until I moved to Toronto, which is the melting pot of Canada. I can eat Indian food one day, Italian the next and visit the many cultures that call this city home. But this is just Toronto – what happens when I decide to go into the world and explore? 
I now open myself up and appreciate other cultures, other foods, other customs, ways of dress and even prayer. I now open my eyes to a different way of life, which also helps open up my heart for acceptance.
In my world, and some call me naïve, I don't see colour (even though I am a person of colour) or religious barriers or cultural practices not to accept somebody – I see it as a way to break down stereotypes.
I am a big believer that if we all took the time to learn about each other's cultures, we could break down racism and misunderstanding.
Travel Helps You Learn More About Yourself
When we live insular lives, eating the same foods we grew up with and practicing the same cultural practice of our culture or country, we don't get to know ourselves fully. Instead, we are just adopting what we have been taught to us through the generations before us. When we travel, we learn more about ourselves and what we genuinely like and don't like.
For example, I grew up in a very strict Muslim household. I grew up with my culture, my religious practices, my food, etc. When I travelled to Spain and Germany in high school, I was not only exposed to two new cultures, but I also came to understand what I could let go of. For instance, I was taught not to eat pork, and even though I am not religious, I still hold on to this as it's a part of my identity, I suppose. However, I could readily adopt other ideas, such as drinking and partying. Was this teenage rebellion, or was it adapting to the new cultures I was immersed in? Travel helps you question old ideas.
In Spain, I attended the San Isidro Festival, which is the day that the locals celebrate the patron saint of the capital Madrid. I was now celebrating with Catholics and learning about their religious practices and customs – something I had never been exposed to as a Muslim. I was learning during this festive time in Spain to be accepting and open. I was learning more about myself just by celebrating with others.
Travel helps you expand your knowledge of different languages.
I was obsessed with the Spanish language and took this in high school as a credit, and I also had a major crush on my best friend, who happened to be from Spain. When his family moved back in grade 11, I promised I would go for a trip. But before going to Spain, I studied and perfected my Spanish language skills to immerse myself in the culture completely. Learning different languages than the one you were born into helps you develop into a more-rounded individual and gives you insight into the different ways to pronounce words you may have never heard before.  
My dad was born in Uganda in 1945 and had friends who were Muslim, Ishnashri, Pakistani and Catholics. My dad is now 76, and he can still fluently speak these languages, including Gujrathi, Urdu, Kachi, Hindi, and Panjabi. He can speak various Indian languages because he learned by hanging out with his friends from different backgrounds, and they all taught each other. Sadly he never taught me.  
My daughter, who was born in Canada, has a birth mother who is Polish, a birth father who is Sudanese, an adoptive mother who is from Uganda with roots in India and an adoptive father who is Danish. She now spends her time learning the various languages to connect with all of her roots, which will serve her well with her future career goals.

Travel helps you explore and experience new things.
I love to travel, only if to explore and try new things. Those new things can come in the form of foods to try, places to visit, people to meet and rare experiences you would never get back home. For instance, when I travelled to Istanbul five years ago, I was enamoured with the culture and the people and wanted to learn everything there was to know about them. I was there to visit my sister as she was running a conference in the country. I had one week to roam the city on my own during the day and explore with her at night. I even took a side-trip to Cappadocia, which was a definite highlight of the trip.
In Istanbul, we visited the Hammam, which is a public bath. I was scrubbed all over and then laid to rest in the warm baths. My skin glowed for a week. It melted in my mouth, and to this day, I can still taste it if I close my eyes. We ate Turkish Delight every day, and it's not the sugary stuff we get in Canada but the handmade Delight made from Pomegranate, Pistachio and Rosewater Petals. 
Or we would go under Galata Bridge, where the locals eat. Under the bridge is where you find the most fantastic seafood, hand-caught and served to you hot on a steaming plate. We went to the same restaurant two nights in a row, ate like queens and learned about the local culture from our waiter, who was more than willing to guide us around the town after his shift was over. We learned that life for the locals is oppressive, that they are angry that the government let in all the Syrians who were taking their jobs and their benefits. That life to them was about eating, drinking and playing backgammon with strangers in side-alley cafes. We also learned about the best places to eat, cooked up local style for a pittance than what the big restaurants were serving.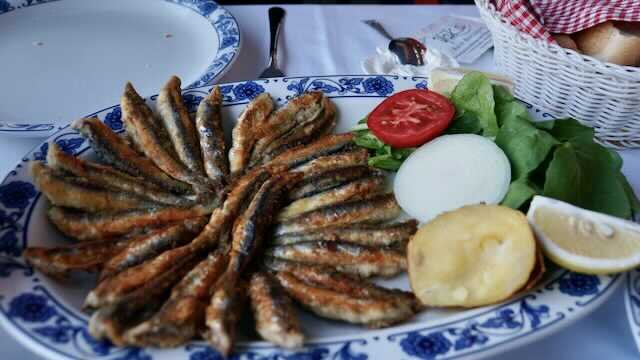 We also met a gorgeous Syrian man living in Istanbul and trying to make a living as a tour guide. He spoke to us about his home in Syria, about the loss of his culture, food and people. He talked about his love and hate relationship with Turkey, who gave him refuge but also detested him and his kind because they needed assistance due to the war raging on at home. He also spoke about the loss of his family.  
Learning about two sides of the same people in a beautiful country helped open up my eyes to the conflicts and why they happen. It also made me sad, as most of the wars these days centre around land ownership, religion, and misunderstanding. Sadly I tried to get both men to meet and understand the other side's point of view, but neither was interested in making it happen.
Cappadocia was amazing. It is a semi-arid region of Turkey known for its "fairy chimneys," shaped like tall cones. During the inquisition, the Christians hid in these caves, and you can still see evidence from the carvings on the walls.  Goreme, the main town, is now a Unesco World Heritage Site. I also had the opportunity to stay in a small village, where all the hotels were old caves, and the towns were populated by Muslims, Christians and Jews living in harmony. Here you could imagine a world outside that was living in peace and not in perpetual war. The highlight of going to Cappadocia is to take a balloon ride over the town, looking down at the small dwelling caves from above and imagining how hard life must have been with no modern amenities.  
I cannot wait to return to Istanbul one day and hope to offer this as a tour with our company, Triple F Photo Tours.
Travel Educates You about the world.
When you stay local and never travel internationally, in my opinion, you lose out on educating yourself and broadening your knowledge about the world and its beautiful people.
I have a friend who has never travelled outside of Canada. She maintains there is nothing to learn or see that she cannot do within the confines of her home and TV. She states that if she wants to learn more about the world or the people who live in the world, she can watch a documentary. We have very little in common around this subject, but I respect her views as she does mine.
When I travel, I learn about the country, and I gain tremendous insights into how other people live, where their food comes from, what they do for fun, how easy or difficult their lives are, etc.  
In Uganda, for example, I grew up hearing amazing stories of our lives there that until my first visit in 2007, back home, I did not realize that everyone did not live the same lives that we had. I was ashamed and ventured forth to learn everything to educate myself about my Ugandan brothers and sisters. I spoke to people, asked them questions and took the time to understand their needs and goals for their lives and their children's lives.  
While being one of the most abundant when it comes to natural resources, Uganda is also one of the poorest African countries. The typical Ugandan earns $50 USD/month from which he must pay rent, food, school fees, etc. This salary was achievable pre-covid, so you can imagine how much more difficult life is under Covid. This is a huge reason I started my charity Cameras For Girls because I wanted to make a difference for females in the developing world. I was lucky to have great opportunities just because I happened to live in Canada – why should females suffer just because they live in the developing world? Through educating myself, I found my life's purpose.
Travel Helps You Meet Your Tribe
When I say tribe, I don't mean as, in a cultural tribe, I mean like-minded people interested in viewing the world with a different lens. When you travel, you meet other people who are also interested in expanding their world views and trying new experiences, whether through food, cultural practices or acceptance.
My favourite thing to do is to talk to other travellers I meet along the way. 
We all share the best places to try the local foods or the experiences we had that we wanted to share or even discussions with a local that lightened our day.
In Istanbul, on my side-trip to Capadoccia, I met Dennis and Sally, a couple from New Zealand. They were on a 6-month tour of Turkey, Syria, Iran and Iraq. I was in awe. Sally was a previous correspondent who loved the region and the people and wanted to introduce her husband to the area. They were so open and friendly, and everywhere we travelled, we had great stories to share about the places we had been to and the people we had met.
I kept in touch with both of them for years through Facebook and letters, and then, unfortunately, we lost touch. Still, every time I think of my travels through Turkey, I fondly remember Dennis and Sally as they were my tribe, and they inspired me and my love of travel, just as much as I did with my stories.
Travelling our big beautiful world helps you gain so much, whether through the cultural experiences, the foods you will eat, the new friends you will make and the stunning places you will visit. Take a chance and travel; I promise you will not regret it.
A woman  I met in Toubab Dialaw last year at the start of a magical day with Leticia.
[Read More]