Fall has always been a favorite of ours here at Andiamo as the air gets a bit crisper,
[Read More]
Fall has always been a favorite of ours here at Andiamo as the air gets a bit crisper, the leaves a bit brighter, and the drinks a bit more decadent! We love checking in with friends all over to see how they celebrate the changing seasons and what better way to do so than to share a drink! If you're out traveling, you can stop by some of our favorite locations and request one of these bespoke cocktails, and if you're at home, feel free to recreate them for yourself. Try your hand at mixology at home or treat yourself to a night out at any of these locations and let us know what you think!
The place: Yuta Bar at the Lodge at Blue Sky in Park City, UT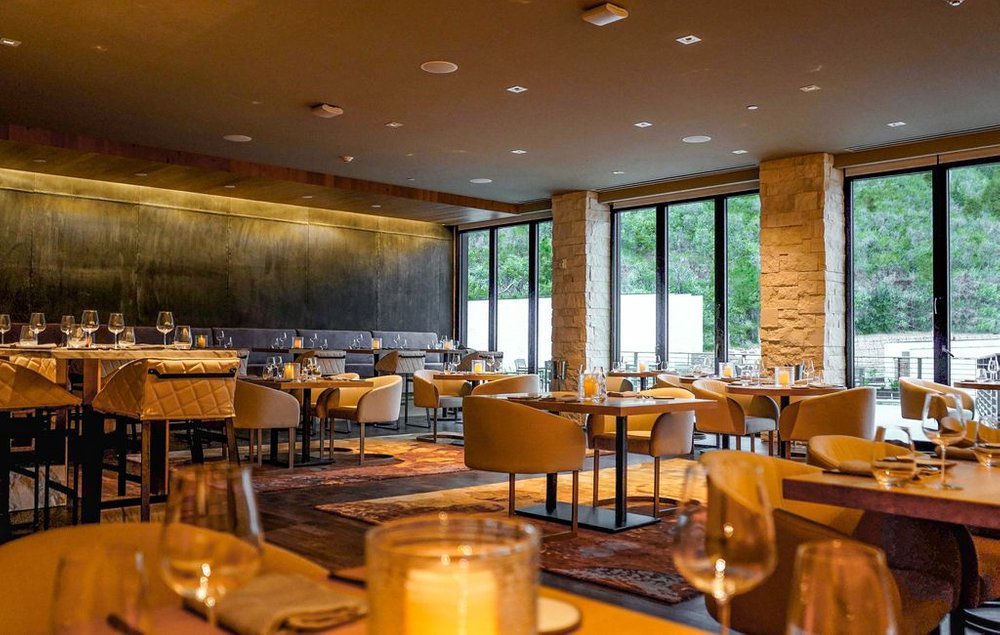 The cocktail: "The Bowlegged Miner"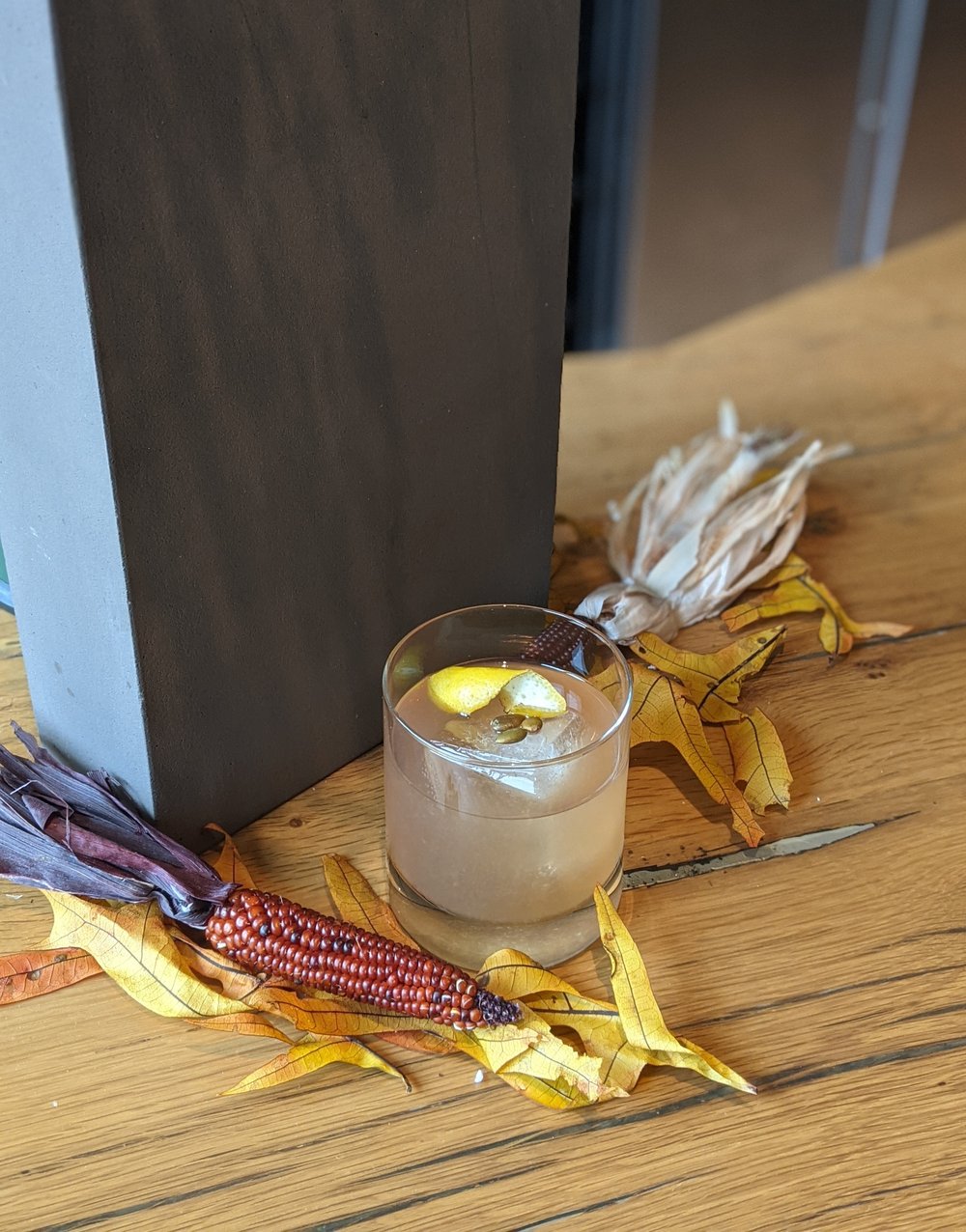 The story: Park City is known to be an old miners town. There is history and ghost stories throughout Main Street. There's an old tale told that just before several mine accidents, a man dressed in a yellow slicker would appear....the sight of him was seen as a bad omen...and for good reason; it has been documented that something bad would occur shortly after he'd appear and soon vanish. As the leaves change from green to yellow, sightings of this man have also been reported around Main Street. I created The Bowlegged Miner to tell the story or myth of the man in the yellow slicker...the drink is light yellow in color and spiced just right to help you get in the cozy or "creepy" fall mood; gathering friends together to find out more about this mysterious legend. Enjoy the Bowlegged Miner at The Lodge at Blue Sky this fall.
The recipe:
Start with a mixing glass
Add 5 whole green cardamom seeds (one crushed)
3-5 dashes of Bitter Lab's Blueberry cardamom bitters
1.5 oz HighWest Double Rye Whiskey
.75oz Yellow Chartreuse
.5 oz Fresh squeezed lemon juice
Stir contents over ice, pour over one large rock, garnish with three cardamom seeds and a flamed lemon peel
The place: Bemelmans Bar at the Carlyle in New York
The cocktail: Madeline's Vesper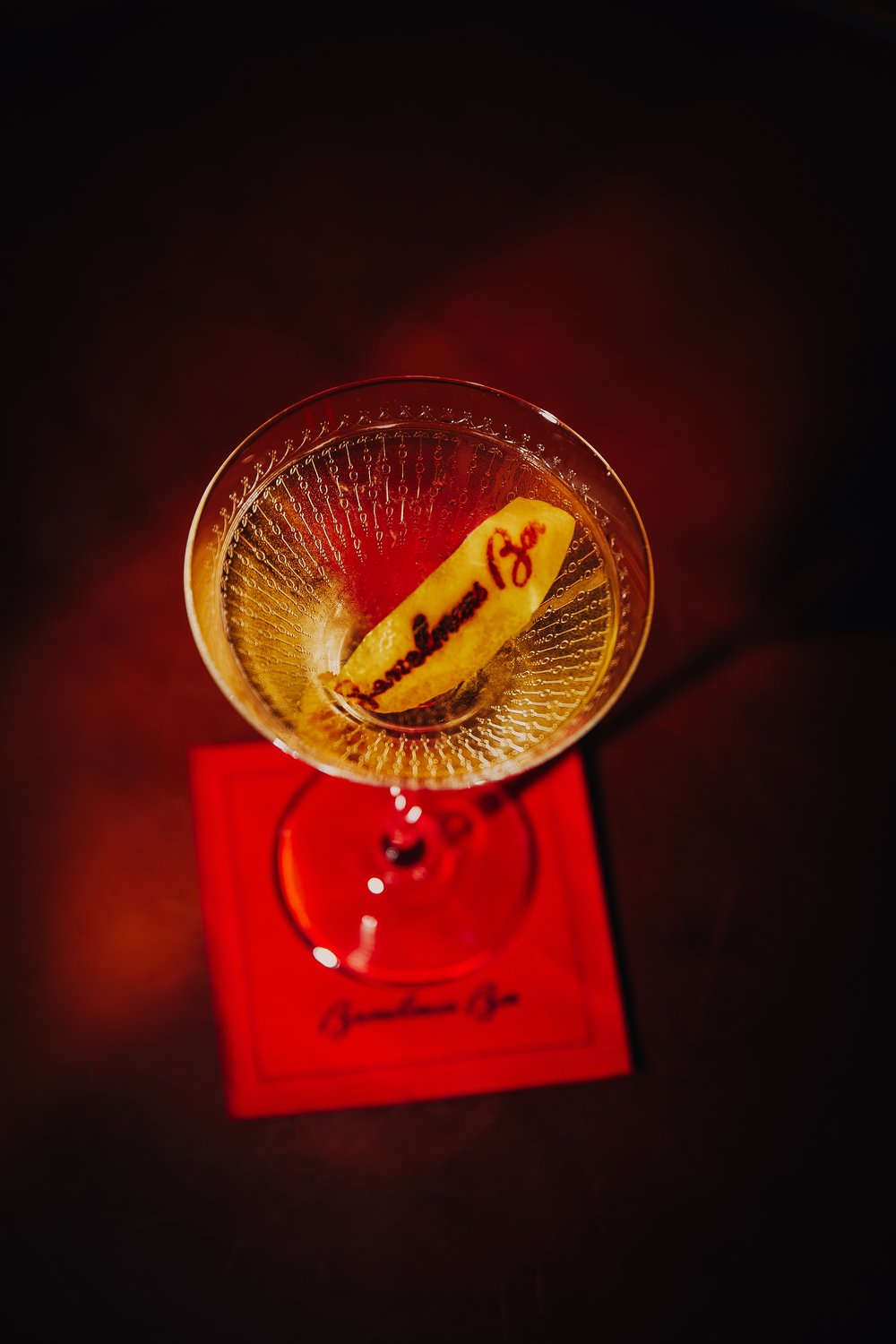 The story: The Madeline's Vesper martini is inspired from our murals that were created by Ludwig Bemelmans. 
The recipe:
3 oz Bombay Saphire 
2 oz Grey Goose
½ oz Cocci Americano 
Shake over ice until well chilled, then strain into a martini glass.
The place: Twin Farms in Vermont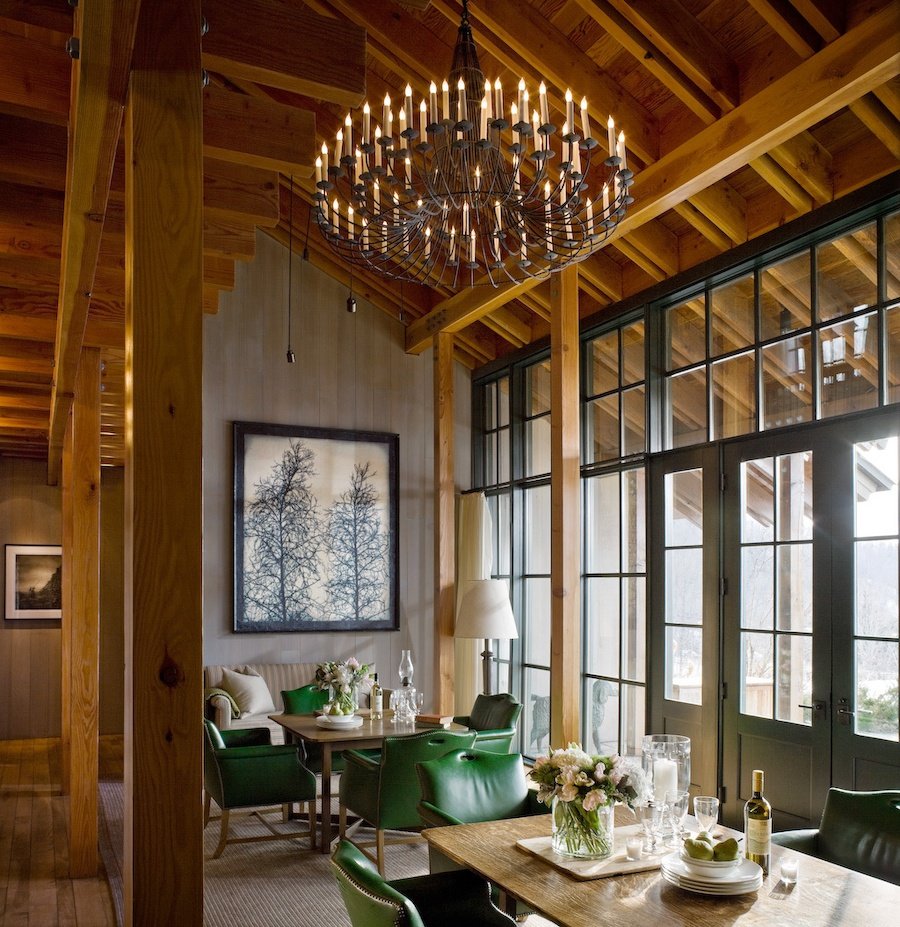 The cocktail: Pera Frizzante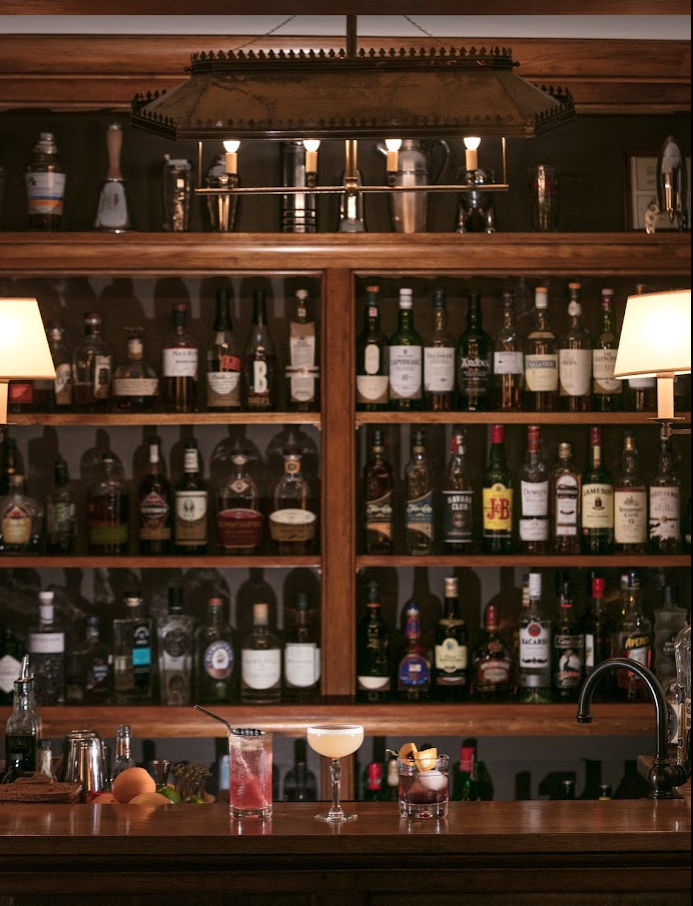 The story: While fall is arguably the most magical time in Vermont, the early fall days can still be quite hot and while mulled wines, hot toddys, and hot ciders can be great, sometimes a cool refreshing glass of bubbles can be just the ticket. The Pera Frizzante incorporates the delicateness of a nice glass of bubbles with the warmth of cinnamon spice on a fall day.
The recipe:
1 bottle Cocchi Rosa
400g pear spheres
8g of cinnamon sticks
Place all items in an airtight bag and vacuum seal
Sous vide the ingredients for 2 hours at 122 degrees Fahrenheit. Remove from the water and place in the fridge until cool. Once cool, open and strain out the pear spheres and Cinnamon.
Combine 1.5 oz of pear & cinnamon infused Cocchi Rosa topped with champagne (we prefer Louis Roederer), and garnish with the Cocchi Rosa compressed pear spheres.
The place: Z bar at the Peninsula Chicago!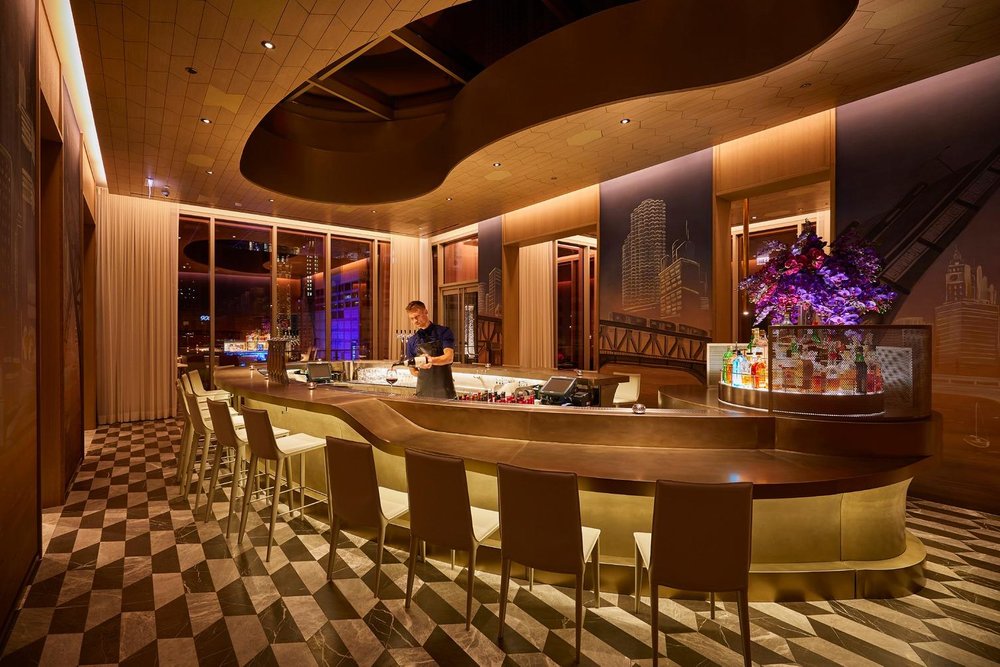 The cocktail: Oak & Apple 
The story: Macallan and its reputation are well known but what's less know is Z Bar was selected as one of the Spiritual Homes for Macallan. Z Bar and their previous Director of Cocktails and Culture were selected to create a cocktail and design the presentation. He wanted to create a "tree" made from leather (implying it was an apple or oak tree). Everything about the presentation was intentional. As you can see below, the final product did not disappoint! To this day, this cocktail is served with just as much classic flare as the day it was created.
The recipe: 
Oak & Apple Batch Mix for 500ml: 
500ml Apple Acid Mix
42ml Pear Liqueur
21ml Domaine De Canton
21ml Italicus
1 Drop of Green Food Dye
500ml East India Sherry
Pour all the ingredients into a bowl and stir until ingredients are blended. 
Oak and Apple Cocktail:
2 oz of Macallan 12
2.25 oz of Oak & Apple Mix
Build all the ingredients in a stirring cup and stir well for 45 seconds. Strain into designated glass.
The place: Home
Through a global pandemic, some had to get creative and recreate past favorites right at home. This next cocktail was inspired by previous travels and born in the home of one of our team members.
The cocktail: Blazing Saddles
The story: One of my favorite bars in the quaint town of Port Douglas in North Queensland offered up a similar drink that quickly became a favorite of mine and my partner's. Of course they had far more pizaz and flare (and exotic ingredients) but we channeled that cocktail in creating a new at home favorite. Our hats are off to Jimmy Rum's Bar as the original will forever be longed for!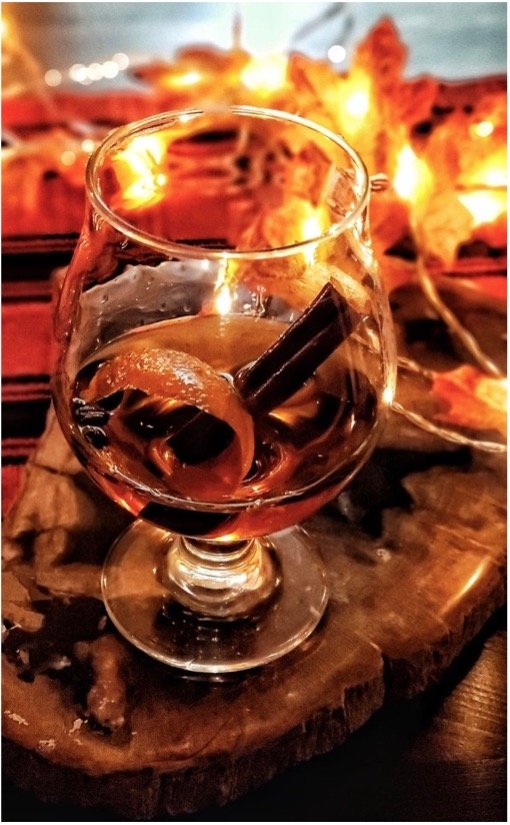 The recipe:
.5 oz Amaro
.5 oz Grand Marnier
1 oz Bourbon (Knob creek works for us!)
1 oz Woodford Reserve Rye
1 bar spoon of real maple syrup
2 dashes of charred cedar & currant bitters (black walnut bitters work nicely as well)
3 coffee beans (for garnish)
1 cinnamon stick (for garnish)
1 orange peel (for garnish)
Shake bitters into designated glass with coffee beans, flamed orange peel and cinnamon stick. Heat all other liquid ingredients in a small pot over medium heat. Do not heat to a simmer. Heat only until the first wisp of steam comes off the liquid then remove from heat. Immediately add the warm liquid to the glass and let steep for about 5 minutes, then enjoy.