When we made our trip to Kentucky's Bourbon Trail, we knew we wanted to check out the oldest restaurant in Kentucky. It's called Talbott Tavern and it's been in Bardstown, Kentucky since 1779. Back then it was a stop for weary pioneers going west, and it has actually been called the oldest stagecoach stop in America.
Check out this video…
In the 1800s, travelers would come to the Talbott Tavern and enjoy food prepared over two fireplaces. Upstairs men slept in one room and women in the other.
We were told that all of this information would be told to us when we arrived at the 2020 version of Talbott Tavern. However, as you'll see if you watched the video, we must have caught them on an off night.
Our reservations were made in advance and they had prepared a delicious sounding menu for us to review on our blog and YouTube channel, but some things went awry. We'll spare the details, and you can watch the video to see how everything played out. For this post we're going to strip back all of the unfortunate events and just talk to you about the food at Talbott Tavern.
Let's start with our appetizer.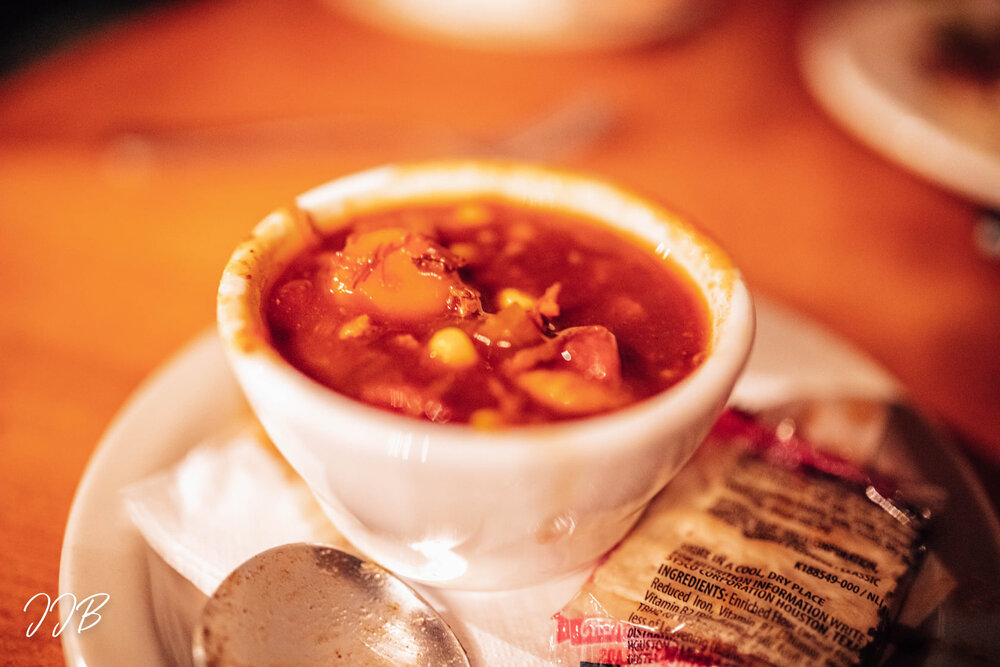 We were served the most classic appetizer on the menu, which is the Kentucky Burgoo.
It's a stew with chicken, pork, beef, and various vegetables like corn and carrots. The broth is thinner like a vegetable soup, but the taste is similar to what you'll find in an Irish stew. There's a meatiness and slight spiciness that just makes your tastebuds happy. Everything about the Burgoo flavor-wise was well balanced, and we both enjoyed it.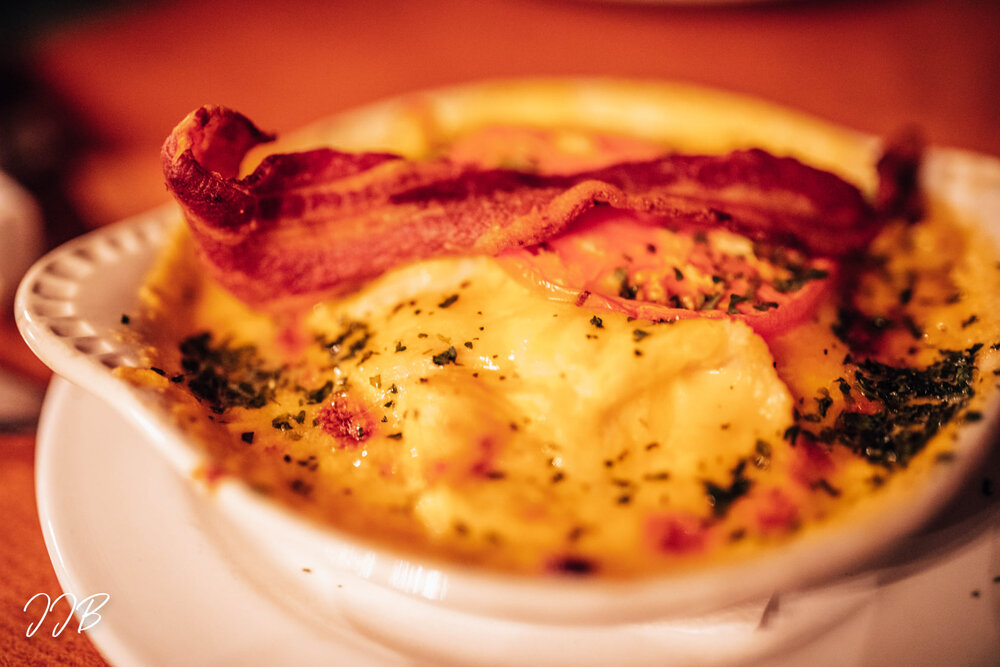 We enjoyed two entrees. The first was another Kentucky staple known as the Hot Brown. Our first experience with this dish was at one of our favorite restaurants, freight house in Paducah, so our expectations for a Hot Brown were a little too high. When we had the chance to process our Talbott Tavern experience we realized that their take on the Hot Brown was probably a much more classic one. Chef Sara at freight house likes to think outside of the box, so her's was more elevated and fancy.
if you're not familiar with a Hot Brown, it's smoked turkey and sugar cured ham on toast. It's then smothered with a Mornay cheese sauce, melted cheddar cheese, and topped with bacon and tomatoes. It's definitely an interesting dish to try out.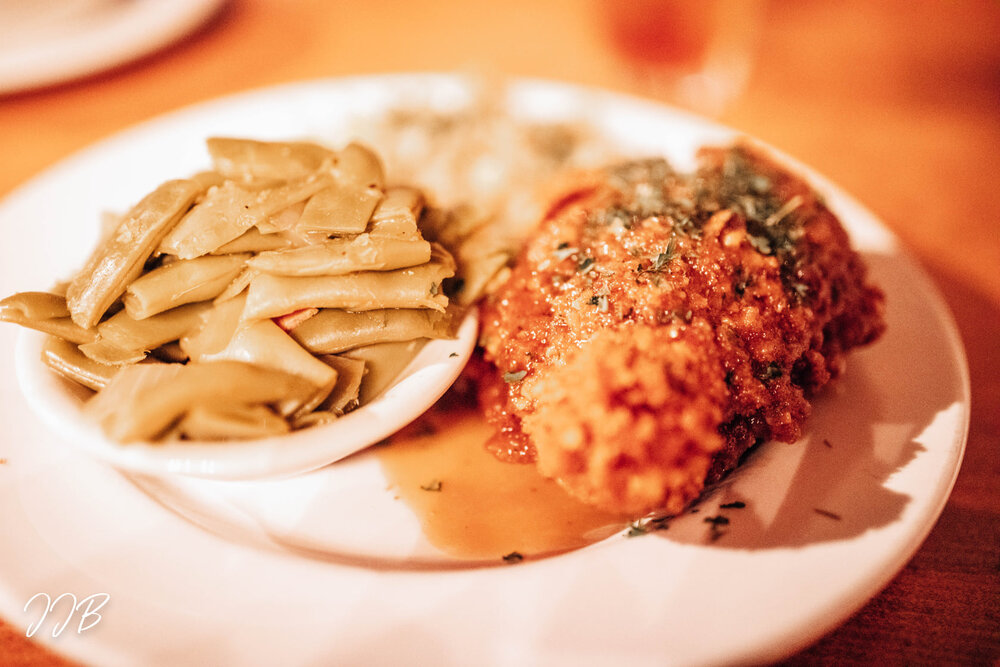 Our second entree was the Bourbon Walnut Chicken with green beans and rice. Out of the two entrees this one was probably our favorite. We enjoyed how crispy the chicken was, and Jenni really enjoyed the rice.
Although it was our favorite, it wasn't quite a home run for us. The chicken is a breast encrusted in walnuts and topped with Talbott's signature bourbon sauce. Although crispy, the flavor leaned a little too far to the sweet side for our personal taste. But, the biggest fail of the plate was probably the cold green beans. That was just unfortunate.
We were set to have the Tavern Pie for dessert, but when that time of the meal came around our waitress let us know they were all out. So that must have been absolutely delicious!
Our experience at Talbott Tavern was a bit disappointing. They did offer to have us back, but with our packed schedule we were unable to make that happen. If you want to make your decision on whether to go or not go to Talbott Tavern based solely on this post, then you probably won't go. However, here's some food
for thought…
Our experience won't necessarily be the same as yours. Maybe come to Talbott earlier in the day so they're fresh and more excited to tell you the history and serve your food. Maybe go into Talbott with the expectation that it's more of a touristy experience and not necessarily a fine dining experience. Those things can make all of the difference.
It is a very cool building with a lot of rich history in Kentucky. Study up before you go and make your experience more about the history than the food experience. Had we done that I think our experience may have been different.
Thank you for hosting us, Talbott Tavern. We're sorry we caught you on an off day and we truly do wish you all the best in the future.
Pin this post with the graphic below: