Updated in September 2020
I moved from Georgia to the Midwest for 6 years now and subsequently have turned into a total leafer. Our first Midwest home in Bloomington, Indiana, was a good intro to fall in the Midwest. The fall colors there got me hooked even though the temps often crept up in the 80s. Fall in Marquette is the real deal. It's also a perfect time to visit thanks to the crisp air, no bugs, and these colorful hues. It's prime for adventure and there are so many places to hike for waterfalls and incredible vistas.
We go out hiking as much as possible in the fall to see the rolling hills aglow with fiery red, orange, and yellow as far as you can see until they dip into the deep blue of Lake Superior in the distance. Tourists from all over the Midwest travel here for a little outdoor adventure while the fall colors are at their peak. When it comes to leaf-peeping in Marquette, the options are endless with hundreds of acres of forest and hundreds of miles of hiking and biking trails in the area. These are a few of my favorite places to see the fall foliage to help you plan your fall adventure in Marquette.
You can find all of these spots via Google Maps but make sure you know where you're going before you start your trip because cell service is notoriously unreliable in the U.P.
This post contains some affiliate links. If you purchase something from one of these links, I may earn a small commission at no extra cost to you.
Fall Colors in Marquette, Michigan: A Local's Guide
Top of the World
I've posted the Top of the World overlook so many times on my Instagram but the view is too good not to share! It's also easy to get to if you don't have a lot of time for a long hike. To get there, head out to Harlow Lake via 550 from Marquette. Turn down Harlow Lake Road and drive up the steep dirt road until you see a parking area and trailhead on your right. You can only do this drive in the warmer months because at some point in the winter the road will not be plowed. Once you park, it's a short uphill climb to two huge rock outcroppings with unobstructed views all the way down to Lake Superior. You can see Little Presque Isle, Hogsback Mountain, Sugarloaf Mountain from up here too. Little Fern has made the trek several times and has yet to see the view. We'll have to remedy that one day!
If you have a little one you need to tote around, we love and use our Ergobaby 360 nonstop.
Yellow Dog Falls
I love me some waterfalls and Yellow Dog Falls is one of my favorites. In the fall, the 40 ish minute drive from Marquette on 550 and old 510 is one of the best reasons to make the trip. Both roads are painted with shades of autumn, it's hard not to take photos along the way. Rolling hills, sunshine (most of the time) and mild temps call for the windows down and some old school country tunes, don't you think?
The trail to the falls begins in between the boulders at the parking lot. The path winds through the woods along the river for about half a mile and you'll come to the first set of falls. These are the biggest but there are a few more drops past these, albeit smaller. If you have the time, press on because the rest of the trail is really peaceful and you'll likely have the trail to yourself because most people turn around after the first drop.
If you're visiting in the summer, Yellow Dog Falls is also a fun place to go to splash around. Get my guide for the perfect summer day in Marquette here.
Sugarloaf Mountain
How about this view? Every weekend during the fall, the Sugarloaf Mountain parking lot is packed and cars line the highway with leafers scrambling to the top to for the view. The juxtaposition of the warm colors against the cool blue of the lake is so striking and totally worth the stairs to the top, 470 feet above the lake.
If you can, I'd highly recommend doing this hike on a weekday because you won't have to deal with as many people trying to get the perfect photo. That's exactly how I managed this photo.
Echo Lake
Echo Lake must be a well-kept secret because we rarely see anyone else out on the trails. This 480 acre Nature Conservancy property is just past Harlow Lake and offers two different hikes for visitors. One is an overlook with views of the colorful woods and the other winds around the peninsula that juts into the lake offering a clear view of the colorful forest.
Fishing is allowed, as well as nonmotorized boats, but you'd have to carry any watercraft about a half-mile from the parking area. No dogs are allowed at this property (even on leash) which is a bummer, but it ensures that the property remains pristine. It's also incredibly quiet out here, no road noise at all.
The Peninsula Trail is .4 miles down to the water and an easy walk. If you have little ones with you or people not as experienced with hiking, this trail is much easier than the Overlook Trail. Some of our Bloomington friends came to visit recently and we took advantage of a break in a rainy day and hiked around for an afternoon. According to the Nature Conservancy, there are moose, gray wolf, river otter, spotted and spotted blue salamanders, and neotropical migratory birds in this area.
If you're looking for something a bit more challenging, the Overlook Trail is .6 miles I believe, and a steady climb up. The forest is quite thick so the view isn't as dramatic as others but it's still beautiful.
Mount Marquette Overlook
If you want a view of the lake and the city of Marquette without any hiking, drive up to the top of Mount Marquette. On a clear day, you can see a quilted landscape of autumn colors and the entire city of Marquette, including Northern Michigan University's Superior Dome and the Ore Dock. This point is easy to find using app navigation but drive south of town to 553 and turn on Mt. Marquette Road and drive to the top. This is a one-way road and quite steep so I'd only drive it if you have 4wheel drive.
Harlow Lake
No matter the season, this is the spot we got most often. There are tons of trails in this area that are dog-friendly and rarely crowded. Pack some happy hour supplies so after your hike, take in the sunset overlooking the lake. There is a parking area right by this giant outcropping which makes it really easy to climb up and enjoy the view while the sun goes down. No need for 4wheel drive to get to Harlow Lake and trailheads. This area does require a recreation passport so if you're not a Michigan resident with one on your vehicle tag, make sure to get one online through the DNR (or staffed park) to access specific state parks and recreation areas.
Fall is a great time to camp in the U.P. and there are plenty of first come first serve camping spots in the Harlow Lake area. There are several nice cabins available for rent year-round around the lake as well.
Presque Isle Park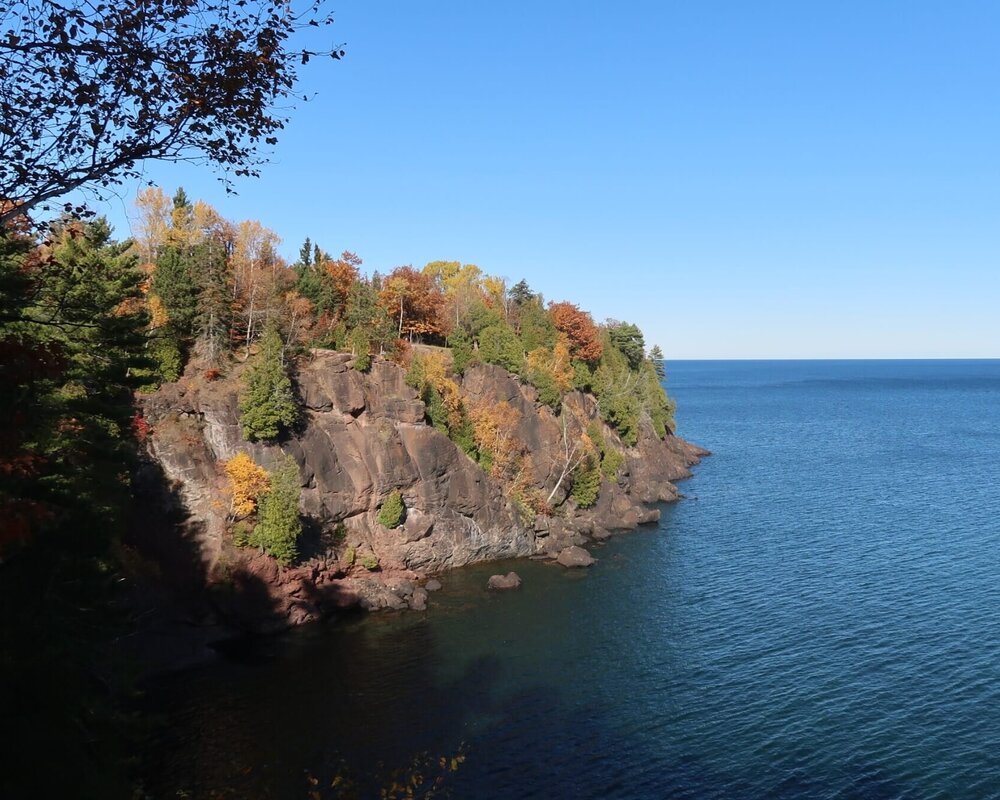 This is one of the most popular places in town and it's easy to see why the first time you visit. It's over 300 acres of forest, trails, and some of the most beautiful views of Lake Superior and fall foliage. Frederick Law Olmstead (yep, Central Park Olmstead) visited Marquette in 1891 and recommended the city leave it alone so the public could enjoy its natural beauty. There's free parking if you want to walk through the park but if you're pressed for time, you can always drive the one-way loop for a gorgeous drive. When we have visitors in town we typically take them here first to do a quick drive through the park and take a walk over the prehistoric Blackrocks formation and photos at Sunset Pointe. We've yet to do it but if you're really brave, you can jump off the Blackrocks into the freezing water.
Fall only lasts a month or so up here, but it is so worth a trip for an outdoor adventure during peak peeping. We've been in Marquette for a year now and can't wait to explore more! Have you been to Marquette or the UP in the fall? Let me know in the comments.
Pin this post to plan your fall adventure in Marquette, Michigan