With low-altitude mountains, idyllic scenery, the finest skiing, and après-ski done right, it's no wonder skiing in Switzerland is high up on our #BUCKETLIST this season. When it comes to après-ski activities, the Swiss offer the best in the business – from sexy cocktail bars, extravagant dining, and world-renowned spas. Andiamo has a list of the best Swiss Ski resorts and destinations for your winter getaway.
St. Moritz
Often considered to be the birthplace of Swiss winter tourism, St. Moritz has hosted the Winter Olympics twice – in 1928 and 1948. With so much history behind the ski town, it's no wonder people flock here every year for some of the best skiing in the world. Home to one of the first ski lifts built in 1948, St. Moritz has acted as a leader in the skiing world with many ski destinations striving to follow suit. This tiny Swiss mountain town boasts a glitzy and recognizable name, known for hosting affluent guests looking to experience the high life. Back in the day the mountain had some of the most exquisite regulars, such as Charlie Chaplin. Brigitte Bardot, Alfred Hitchcock and Elizabeth Taylor. The town is a mecca for foodies from around the world; with a statistic of one in every ten restaurants boasting a world-class restaurant rating. The shopping experience offered in St. Moritz is arguably the most special – with luxury boutiques, jewelers, and art galleries.  
Where to stay: Badrutt's Palace Hotel
Opened in 1896, Badrutt's Palace was the very first Palace hotel in the world. Alfred Hitchcock actually spent his honeymoon here back in his day. Boasting a world-renowned international reputation of high end hospitality, this hotel has hosted some of the most elite celebrities, models, and royalty. It's tower-like property and iconic silhouette has become an internationally recognized symbol of St. Moritz. Focused on wellness, the "Palace Wellness Center" offers guests a myriad of amenities – indoor/outdoor pool, jacuzzi, saunas, ice room, aroma steam room, and 10 specialized spa treatment rooms. The hotel is also known for hosting the area's best places to eat and drink – such as Nobu, located inside the oldest farmhouse in town. Badrutt's Palace Hotel is the quintessential Saint. Moritz experience. 
Zermatt
The city located at the foot of the country's famous Matterhorn Mountain, Zermatt borders Italy, so the city allows guests to experience classic Switzerland with a touch of Italian flair. During the winter season, Zermatt is known for their excess of fresh powder and panoramic views of the highest mountain peaks of the Swiss Alps that skiers from all over the world come to experience. The Main Street in town, Bahnhofstrasse, is known for their exceptional après-ski atmosphere – home to boutiques, cafes, bars, and restaurants. Zermatt offers a classic Swiss experience – think apple streusel, artisanal cheeses and other traditional drinks and dishes. Committed to preserving its original character, Zermatt has remained a car-free town, ensuring that the city's highlights are all within walking distance. For our thrill seekers, Zermatt is one of the top destinations for heli-skiing. 
Where to stay: Mont Cervin Palace
Located along one of the most spectacular mountains in the world, the Matterhorn, Mont Cervin Palace is a pristine and authentic resort for elite travelers and avid skiers alike. Upon your arrival to the lovely city of Zermatt, the hotel's transportation team will pick you up from the train station by covered horse-drawn carriage. The accommodations offer guests two different decor types – traditional Alpine or luxurious contemporary. No matter what your decor preferences may be, each room offers breathtaking views of the Mischabel Mountains or the Matterhorn. With (3) on-property dining options, guests will have their choice of international cuisine or the traditional Swiss selection of fresh meat, fish and vegetables cooked on a wood-fired grill. The Mediterranean restaurant on property, Ristorante Capri, has been awarded 1-Michelin Star. The spa offers well-being and relaxation treatments, and provides guests with access to all of the fabulous spa amenities.
Gstaad
Known for being home to some of the top hotels, gourmet restaurants and luxury chalets in the area, this car-free resort town is a popular destination for international celebrities and world famous elite. The city is located 1,000-3,000 meters above sea-level, which is said to have a positive impact on your wellbeing in terms of mental clarity, physical aptitude and release of endorphins. The surrounding mountain streams, sparkling mountain lakes, snow covered forests and sprawling hills create an idyllic setting for your winter travel destination. Gstaad is considered to be a paradise for those in search of fine dining with more than 100 restaurants holding some of the highest culinary awards in the world. Despite its reputation as a playground for the rich and famous, it's notable for the relaxed and easygoing atmosphere and well equipped with some of the most luxurious spas and wellness centers in all of Europe. Gstaad offers some of the most incredible cross-country skiing in the world.
Where to stay: Alpina Gstaad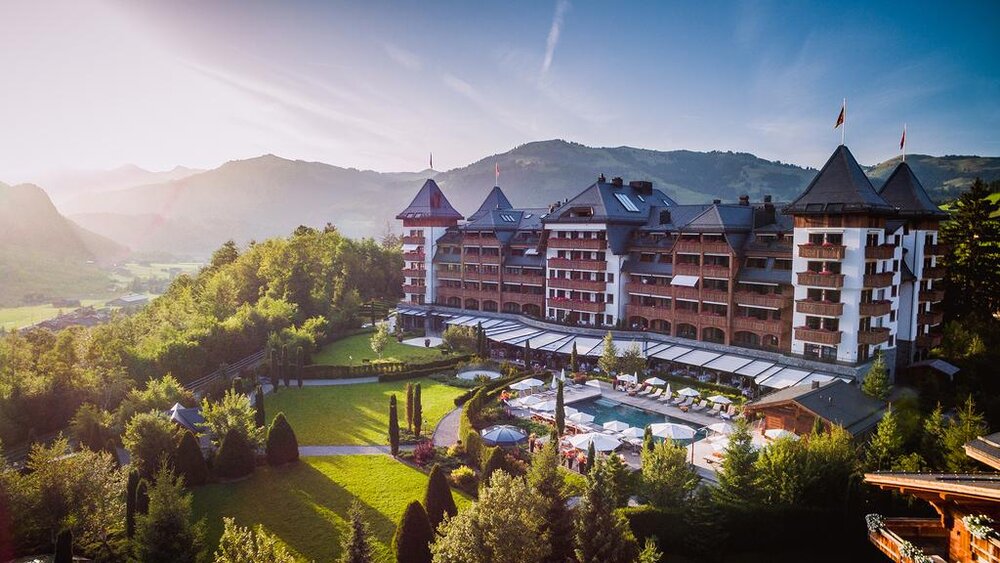 The premier hotel within the favored mountain destination of Gstaad, the Alpina Gstaad is a mountain property with an ultra-luxe feel. It's the first luxury hotel to be built in Gstaad in over 100 years, and is situated on five acres of immaculate mountainside property. The overall feel of the hotel can be described as a contemporary interpretation of traditional Swiss architecture and incorporates the authentic Alpine style throughout each beautifully appointed guest room. The Six Senses branded spa on property stands behind the philosophy of "balancing senses", ensuring guests feel revamped and revitalized during their stay.  Offering a world-renowned gastronomic dining experience, The Alpina Gstaad draws upon authentic Swiss traditions in food and wine. Each restaurant offers an extensive wine list, signature Swiss dishes and impressive tasting menus. The on-site Cigar Lounge brings inspiration from classic Havana, and features a walk-in humidor with a selection of over 50 cigars. As many guests come to the Alpina Gstaad to ski, it makes sense that the award-winning concierge team sets up private ski experiences for all levels and abilities. For those who don't ski, alternative activities such as ice-skating, horse-drawn sleigh rides and cooking classes are offered. The Alpina Gstaad's mission is to serve as a place where those who embrace life's fast pace can find the space to slow down.