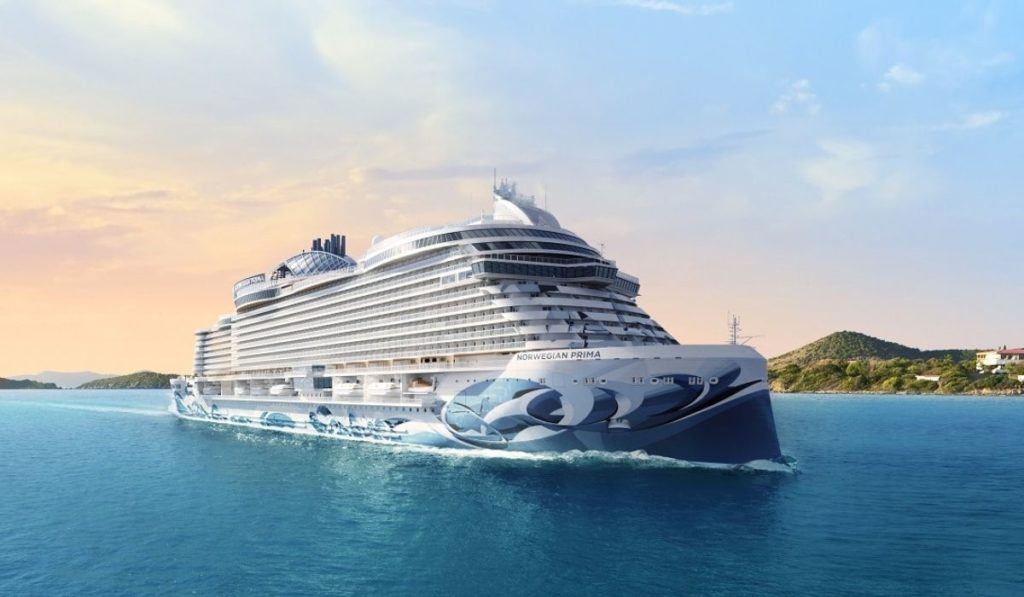 With cruising set to be back in full swing in 2022, cruise lines are unveiling some of the most innovative cruise ships to date. In addition to all the great ships making their debuts this fall, the coming year will see even more new builds sailing to various destinations around the world. If you are ready to make up for lost time, you should consider booking a trip on one (or more) of these Best New Cruise Ships for 2022.
We already have plans to sail on a few of these ships and might just book a few more. Which new cruise ship for 2022 are you most excited to check out?
Related Post: Ultimate Cruise Planning Guide
Best New Cruise Ships for 2022
Norwegian Prima
As Norwegian Cruise Line's first new class of ships in nearly 10 years, Norwegian Prima will debut many new features and experiences. Norwegian Prima will be the first of six ships in this new class.
Norwegian Prima will set sail in August of next year, and she will certainly be one of the best cruise ships for 2022.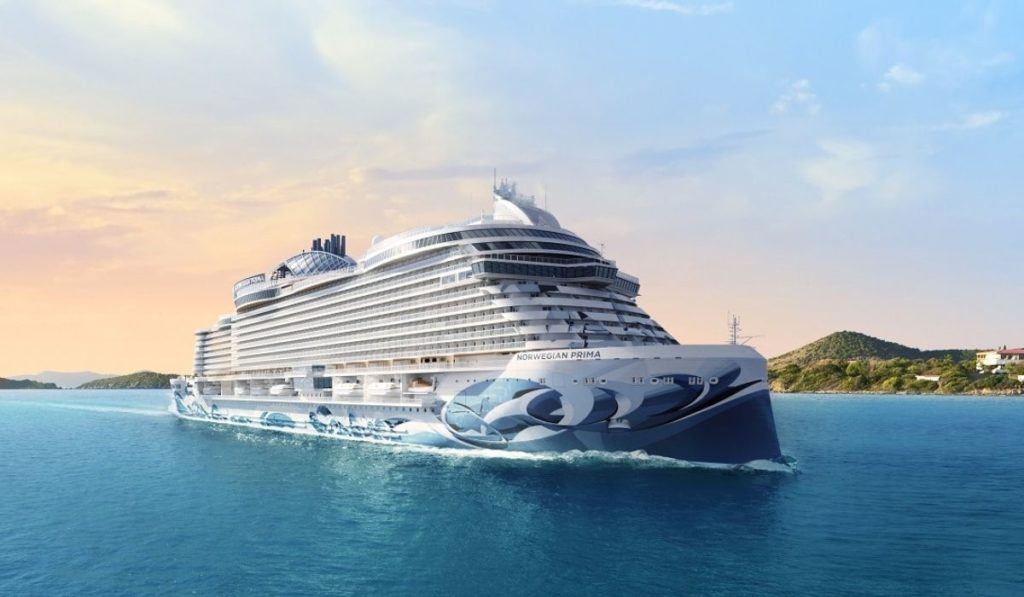 The ship's inaugural season will take place in Northern Europe visiting popular ports in the Baltic region and Norwegian Fjords. She will then transition to North America offering a variety of cruises from New York, Galveston, Miami, and Port Canaveral.
This 142,500 gross tons ship will be the "Industry's Most Spacious New Cruise Ship" when she debuts. Norwegian Prima will offer the most outdoor deck space of any new build.
Norwegian Prima Features
We are big fans of Norwegian Cruise Line's Waterfront area. So, we are thrilled that Norwegian Prima will offer an expansive new open-air deck aptly named Ocean Boulevard. This new outdoor promenade will be twice as large as its predecessors.
This additional space offers cruisers the opportunity to get closer to the ocean, while enjoying some unique experiences found only on Norwegian Prima. For instance, there's the Concourse, an outdoor sculpture garden, and two Oceanwalk glass walkways. These transparent structures provide one of a kind views over the ocean. 
Not to mention, the Ocean Boulevard on Norwegian Prima will offer infinity pools on both sides of the ship, putting guests much closer to ocean level than the traditional pool deck.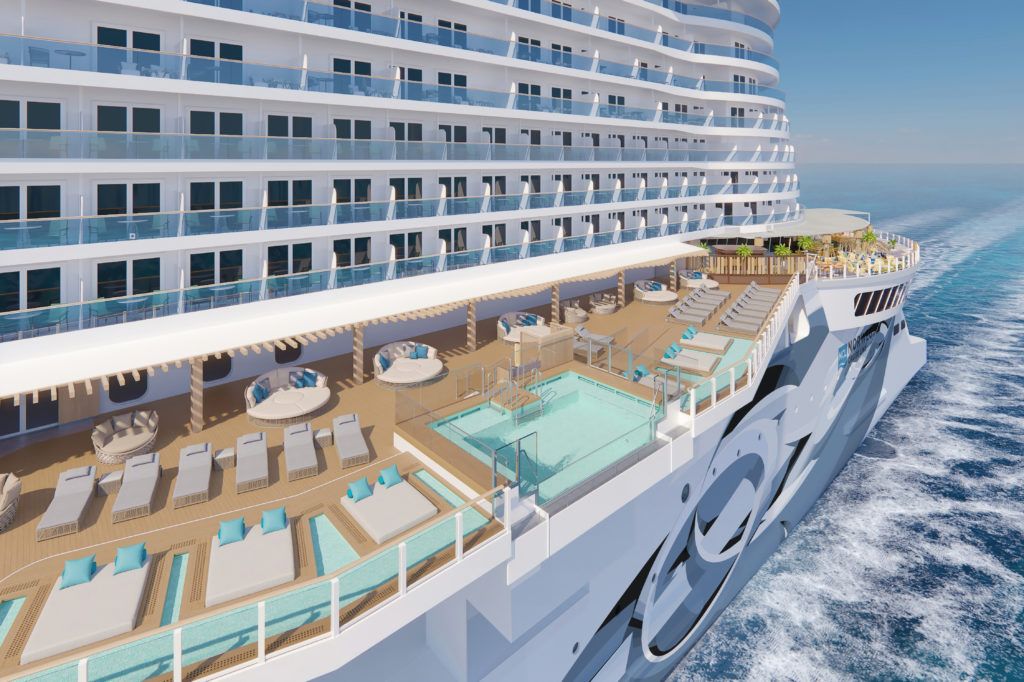 Norwegian Prima will also debut a Food Hall. This "upscale open-air marketplace" will be home to several different eateries featuring some reimagined favorites like Starbucks, Coco's, and Q Texas Smokehouse, as well as some brand new additions. Don't worry, other popular specialty restaurants can still be found on the ship, including our new favorite Onda by Scarpetta which debuted on Norwegian Encore.
Finally, Norwegian Prima will also offer some of the most spacious accommodations at sea with the brand's largest-ever bathrooms and showers. Ranging from Studio Cabins to Suites and everything in between, the ship will offer cabins to satisfy all types of travelers. 
Celebrity Beyond
Celebrity Beyond is the third ship in Celebrity Cruises popular Edge Class of ships. When Celebrity Beyond debuts in April 2022, she will be longer, taller, and more luxurious than her sister ships, Celebrity Edge and Apex. With a 20 meter stretch and 1 deck taller, the ship will feature targeted increases in space for a feeling of more openness.
Celebrity Beyond will sail a variety of European cruises through the summer of 2022. The ship will then reposition to Florida in October for a winter season in the Caribbean. 
Celebrity Beyond Features
The popular Rooftop Garden will be 20% larger on Celebrity Beyond. This area will have increased seating with new private nooks. There will also be more spaces for movie watching, enjoying live music, and outdoor dining at the expanded Rooftop Grill. Along with being larger, the Rooftop Garden also has enhancements for shielding from the wind and two cantilevered float pools.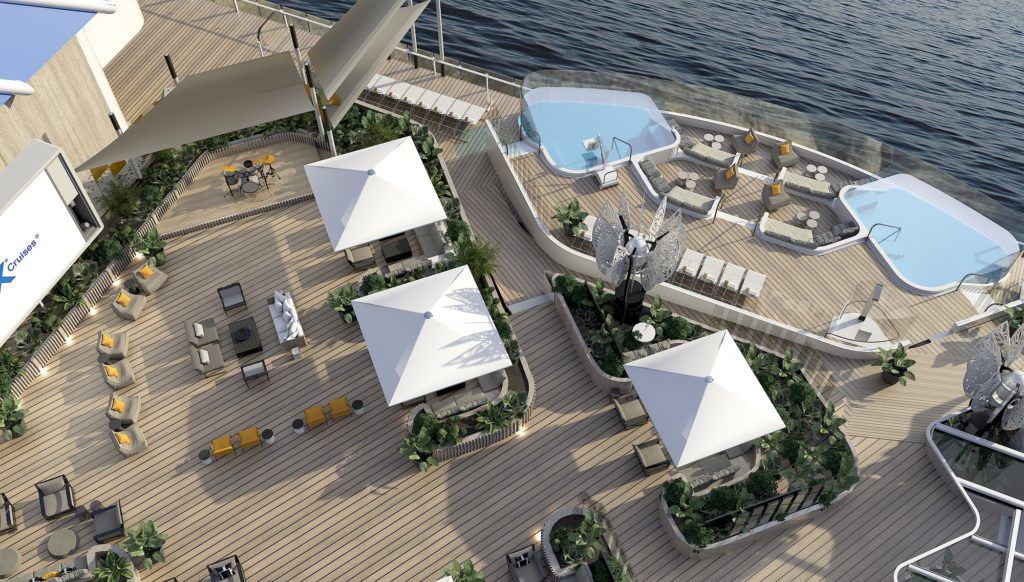 If the Resort Deck on Edge Class ships wasn't already glamourous enough, this area will also be bigger providing more outdoor space. The Resort Deck will feature a 25-yard lap pool surrounded by a terraced pool deck and new sunken seating areas. It will also include enhanced lighting details and a new iconic art sculpture. Of course, Celebrity Beyond will also feature the Magic Carpet. 
Perhaps the biggest transformation on Celebrity Beyond is the Sunset Bar. This now multi-level area will be 180% larger! This Moroccan-inspired escape is reminiscent of a modern-day Casablanca. It will feature small niches and covered enclaves for more intimate conversations, cascading terraces, and a rather impressive bar.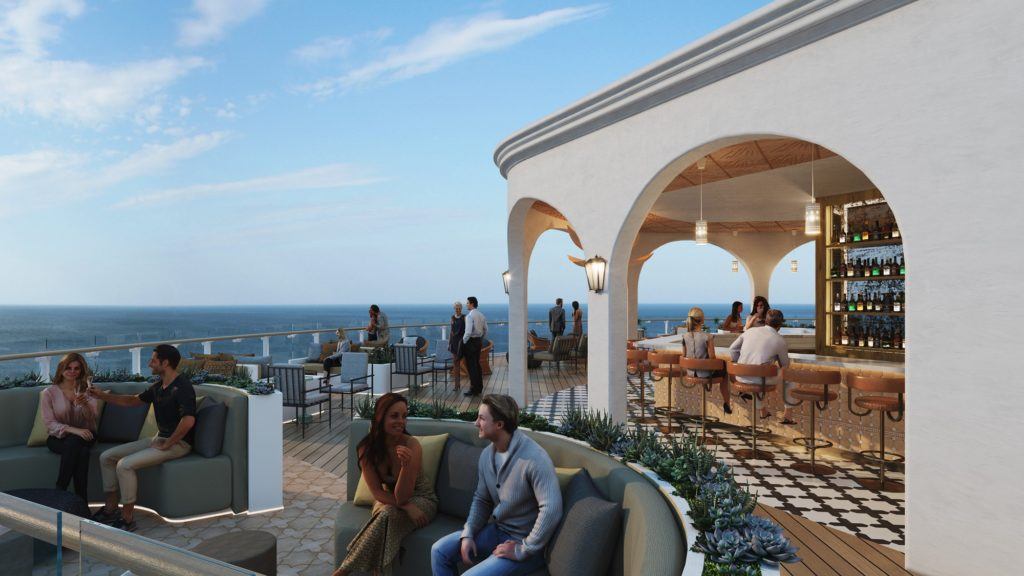 The Grand Plaza will also receive some enhancements. Larger than the Grand Plazas on sister ships, the Celebrity Beyond Grand Plaza has an airier atmosphere. The added space also allows for the reconfiguration of the Martini Bar into the center of the venue as a full, circular bar.
In terms of dining, one new restaurant has been revealed so far for Celebrity Beyond. Le Voyage is an intimate 50-seat restaurant by world-renowned chef Daniel Boulud. Aptly named Le Voyage, travel is the inspiration for the globally inspired flavors at this upscale specialty restaurant. We are sure more dining details will be revealed soon.
Finally, Celebrity Beyond's Retreat for suite guests will be completely re-imagined as well. This exclusive area will include all new suites, a new two-story Retreat Sundeck, and the relocated private restaurant Luminae.
Disney Wish
Disney Cruise Line's newest ship, Disney Wish, is certainly one of the best cruise ships for 2022. This ship will make its debut in Summer 2022. The Disney Wish will sail its maiden voyage, a five-night cruise to Nassau, Bahamas and Disney's private island, Castaway Cay, on June 9th. The ship will then sail an inaugural season of three- and four-night cruises to the same destinations from Port Canaveral, Florida.
Disney Wish is the 5th ship in the cruise line's fleet and the first LNG ship for the brand. For the first time, the artwork on the bow of the ship will feature Captain Minnie Mouse. The stern of the ship will feature a Rapunzel sculpture. This artistic princess will be decorating the exterior of the ship with the help of her chameleon pal, Pascal.
Disney Wish will bring to life the worlds of Disney, Pixar, Marvel, and Star Wars with unique dining, entertainment, and onboard activities.
Disney Wish Features
The Grand Hall will set the stage for cruisers as they first step onboard Disney Wish. This Castle on the Seas is the ship's grand 3-story Atrium. It will feature a bronze statue of Cinderella, a grand staircase, a starry chandelier, and a bit of pixie dust.
Continuing with Disney Cruise Line's rotational dining concept, Disney Wish will offer 3 brand new restaurant concepts. Arendelle: A Frozen Dining Adventure brings the kingdom of Arendelle to life through immersive live entertainment featuring favorite characters like Elsa, Anna, Kristoff, and Olaf.
Worlds of Marvel is the first-ever Marvel cinematic dining adventure. In this unique dining experience, guests will play an interactive role in an action-packed Avengers mission that unfolds around them. Lastly, the third new restaurant concept takes guests back in time to Hollywood. Named for the year the Walt Disney Company was founded, 1923 is an elegant celebration of the company's legacy.
Disney Wish will also feature adult-only specialty dining. Palo Steakhouse is an evolution of the Palo restaurant that Disney cruisers know and love. This new rendition of the restaurant now combines authentic Italian dining with a modern steakhouse. Enchanté will offer the most luxurious dining experience on Disney Wish. This upscale specialty restaurant will feature a gourmet menu crafted by Michelin-starred Chef Arnaud Lallement.
The AquaMouse is sure to make a big splash on Disney Wish as well. This brand new attraction will bring to life the adventures of The Wonderful World of Mickey Mouse animated shorts. This first-of-its-kind water ride at sea will send guests swirling through winding tubes suspended high above the upper decks.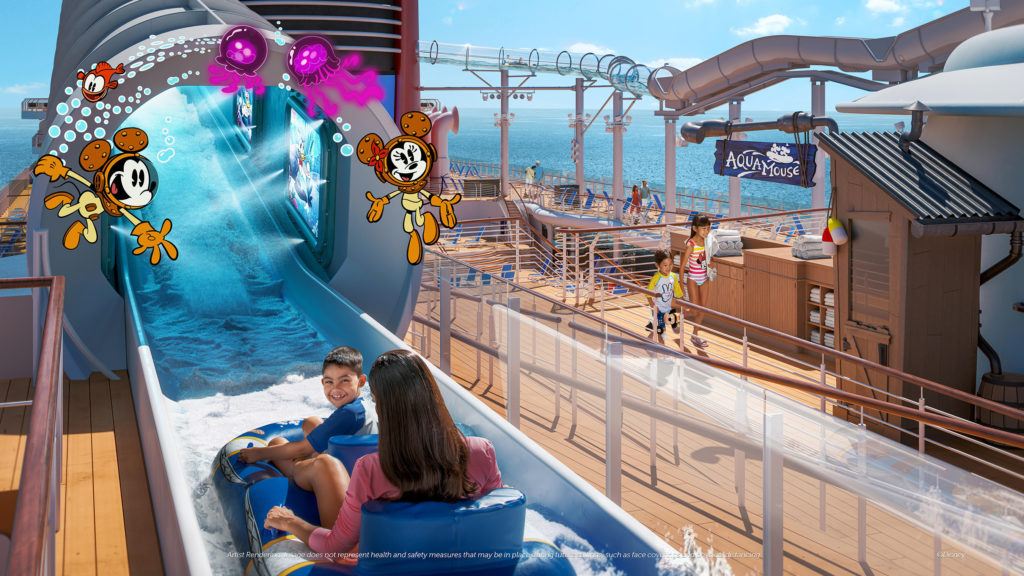 Further, Star Wars fans will love the new Hyperspace Lounge. This immersive and interactive bar, styled like a luxurious yacht-class spaceship, will offer signature beverages inspired by the films. This is sure to be one out-of-this-world experience.
Not to mention, Disney Wish will feature an adaptation of Disney's Aladdin – A Musical Spectacular, other entertainment zones, a better than ever pool deck, and some of the most magical staterooms at sea.
MSC Seashore
MSC Cruises' newest flagship, MSC Seashore, is elevating the guest experience to a whole new level. Thus, this latest ship in the MSC Cruises' rapidly expanding fleet should also top your list of the best cruise ships for 2022. This new ship will debut in Miami this November, making it a perfect choice for your next cruise vacation. MSC Seashore will sail 7-night cruises to The Bahamas and Caribbean, including stops at the new private island, Ocean Cay Marine Reserve.
With 65 percent of the public spaces completely reimagined, MSC Seashore boasts some of the most outdoor space at sea. This includes redesigned outdoor venues and bars, new al fresco dining areas, and more.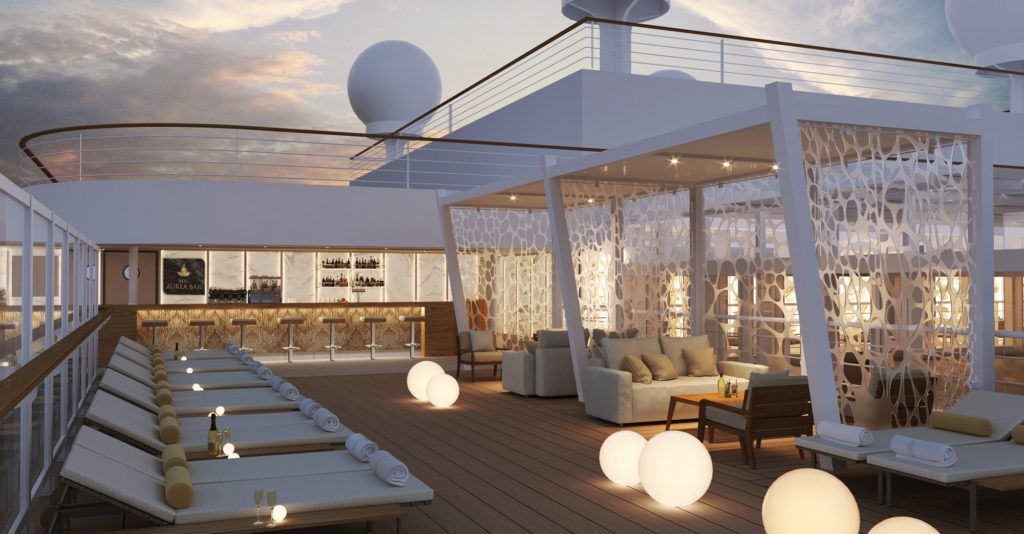 MSC Seashore Features
With an expansive Waterfront Boardwalk, the impressive glass-floored Bridge of Sighs, and six pools including the new aft infinity pool, this ship is ideal for warm weather cruises.
MSC Seashore will offer 18 bars and lounges (12 indoor and 6 outdoor venues), five specialty restaurants with al fresco dining options, and four main dining restaurants.
The Chef's Court on Deck 8 will host these 5 specialty restaurants featuring international flavors. These venues include the Butcher's Cut steakhouse, Kaito Sushi Bar complete with a a sushi conveyor belt, HOLA! Tacos & Cantina, the Ocean Cay seafood restaurant, and Kaito Teppanyaki.
MSC Seashore will also feature a larger shopping experience, an expanded casino, and more thrills for all ages. In addition to the F1 simulator and XD cinema, the ship debuts the first of its kind ultimate rafting simulator. The new and improved aquapark, The Pirates Cove Aquapark, features exciting activities for the whole family including a virtual reality experience on the main waterslide.
For those who like to vacation in luxury, MSC Seashore will have the largest Yacht Club in the fleet. This exclusive ship within a ship concept will span four decks with unparalleled sea views, offering a private pool, restaurant, and lounge.
Scarlet Lady or Valiant Lady
At long last, Virgin Voyages' Scarlet Lady is making her way to North America! After several delays beyond the new cruise line's control, Scarlet Lady begins sailing from Miami this October. If you are looking for the perfect adult-only getaway in 2022, look no further than Scarlet Lady. Even if you wouldn't ordinarily consider a cruise vacation, this edgy new ship might sway you.
Perhaps one of the most appealing aspects of Virgin Voyages is the all-inclusive nature. All cruise fares on Virgin Voyages include basic beverages like soda, bottled water, non-pressed juices, coffee, and tea. Cruise fares also include all gratuities, even on services such as spa treatments.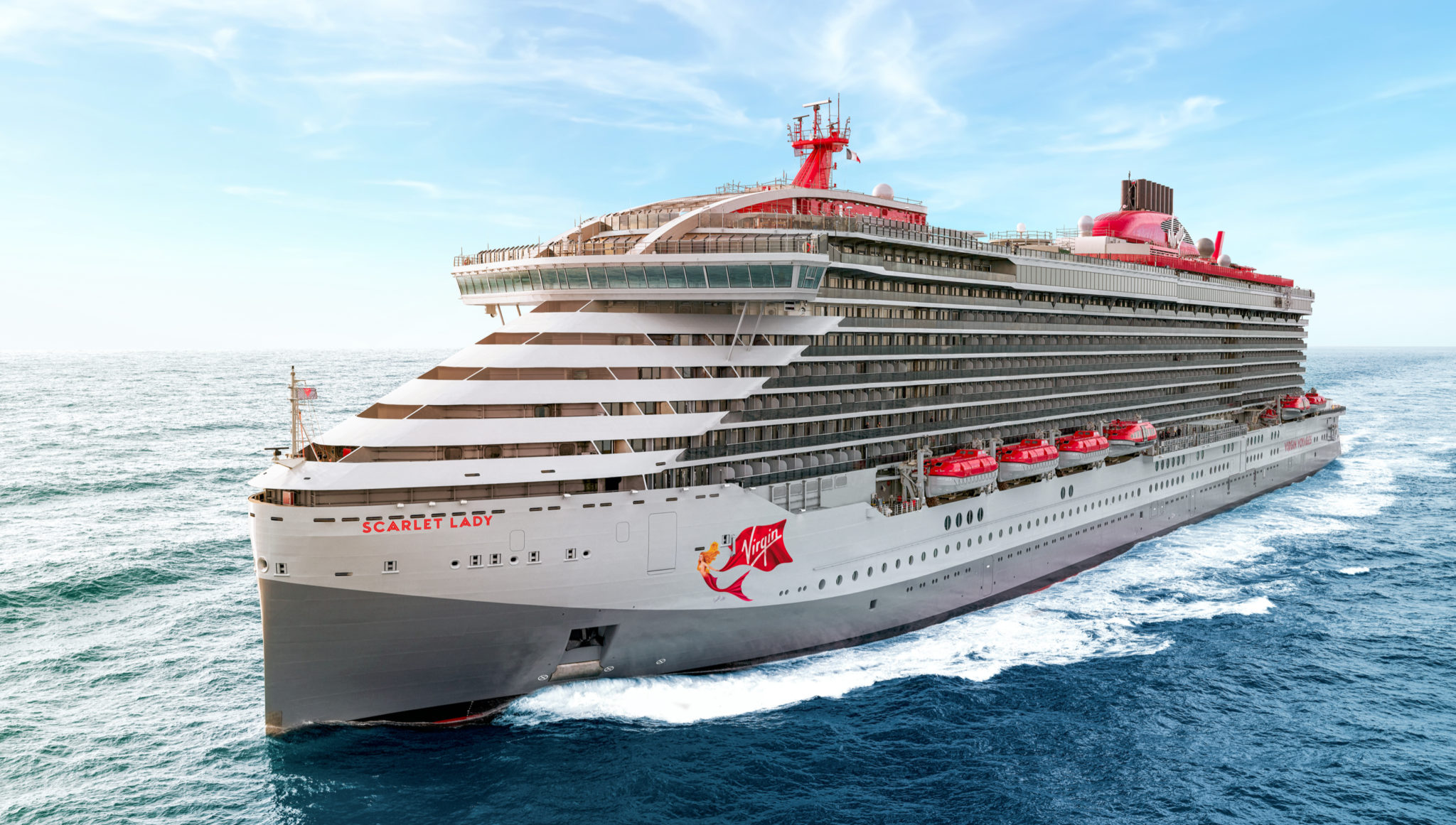 Other inclusions that are normally an up-charge on competitor brands are basic WiFi and group fitness classes. Dining in all venues is also part of the cruise fare. That's right, there will be no additional costs to dine at the line's signature steakhouse.
Book a Cruise with Virgin Voyages Now for Exclusive Savings!
Scarlet Lady Features
Speaking of dining, Scarlet Lady breaks the mold when it comes to traditional cruise dining. The ship does not have a main dining room or a buffet. Instead, there are 20+ dining options that are all included in the cruise fare.
From casual options to upscale dining experiences, there will be no up-charges to dine at any of the restaurants. These options include Wake, the glamourous steak and seafood restaurant, and Extra Virgin, an Italian trattoria serving handmade pasta. There is also the lively Korean BBQ restaurant, Gunbae, and Pink Agave, an upscale Mexican restaurant.
Scarlet Lady also features some of the most unique cabin categories at sea. Ninety-three percent of all cabins on the ship have an ocean view. While 86% of the cabins have a balcony, complete with hammocks of course. For those looking to upgrade to a suite, all come with marble bathrooms with premium amenities and a peek-a-boo shower, a European king bed, and a fully stocked minibar.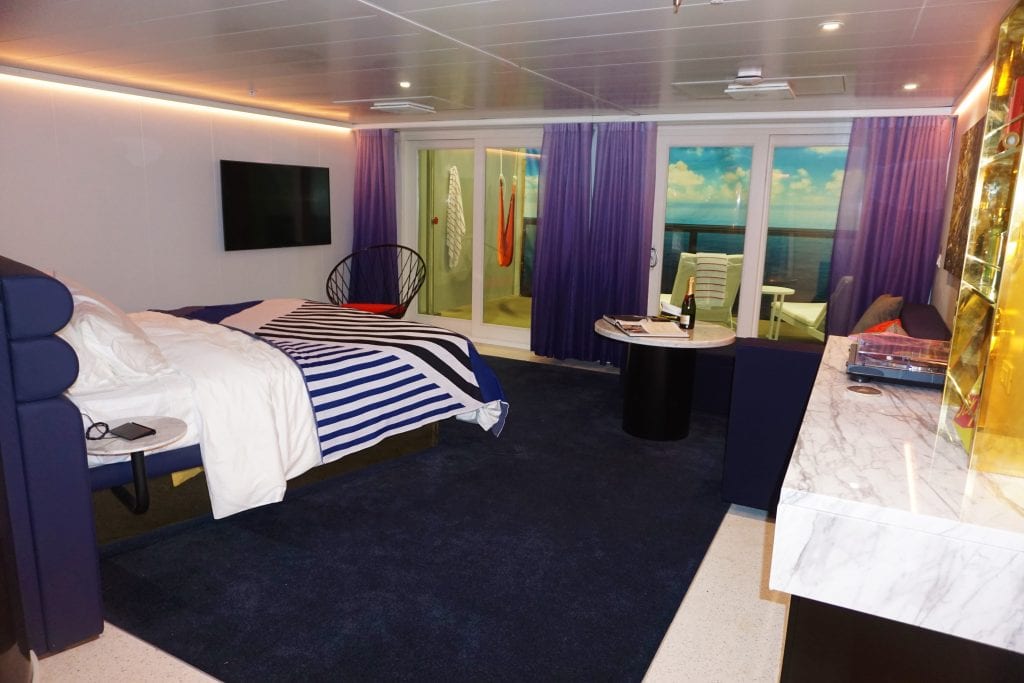 In 2022, Scarlet Lady is sailing the Caribbean on a variety of 4 and 5-night itineraries, all including a stop at the private Beach Club at Bimini.
If you are looking to venture beyond the Caribbean, Scarlet's newest sister ship, Valiant Lady, also debuts in early 2022. Valiant Lady will sail in Europe. The ship will visit some of the most gorgeous places in Europe, with late-night and overnight stays in Málaga, Palma de Mallorca, the Canary Islands, Lisbon, and Belgium. Currently, itineraries are available through May 2022 on this new ship.
Odyssey of the Seas
Yes, technically Odyssey of the Seas is currently sailing. Though, as the newest and most innovative ship in Royal Caribbean's fleet, Odyssey of the Seas is certainly one of the best cruise ships for 2022.
Odyssey of the Seas is now sailing the Caribbean on 6-8 night itineraries. At the end of April 2022, the ship will reposition to Europe to offer exciting itineraries to Greece and the Holy Lands. Finally, the ship will transition to Florida once again sailing the Caribbean beginning in November 2022.
Odyssey of the Seas Features
As the second Quantum-Ultra Class ship, Odyssey features many familiar favorites in addition to a few new features of her own. Thrill seekers will love the Ripcord by iFLY, the SkyPad, and the North Star. Ripcord by iFLY is a 60-second hair-raising skydiving simulator that is free on port days. The Sky Pad is a complimentary virtual reality bungee experience. Finally, North Star is an observation capsule that rises 300 feet above sea level for extraordinary panoramic views. Currently, North Star is also complimentary on port days.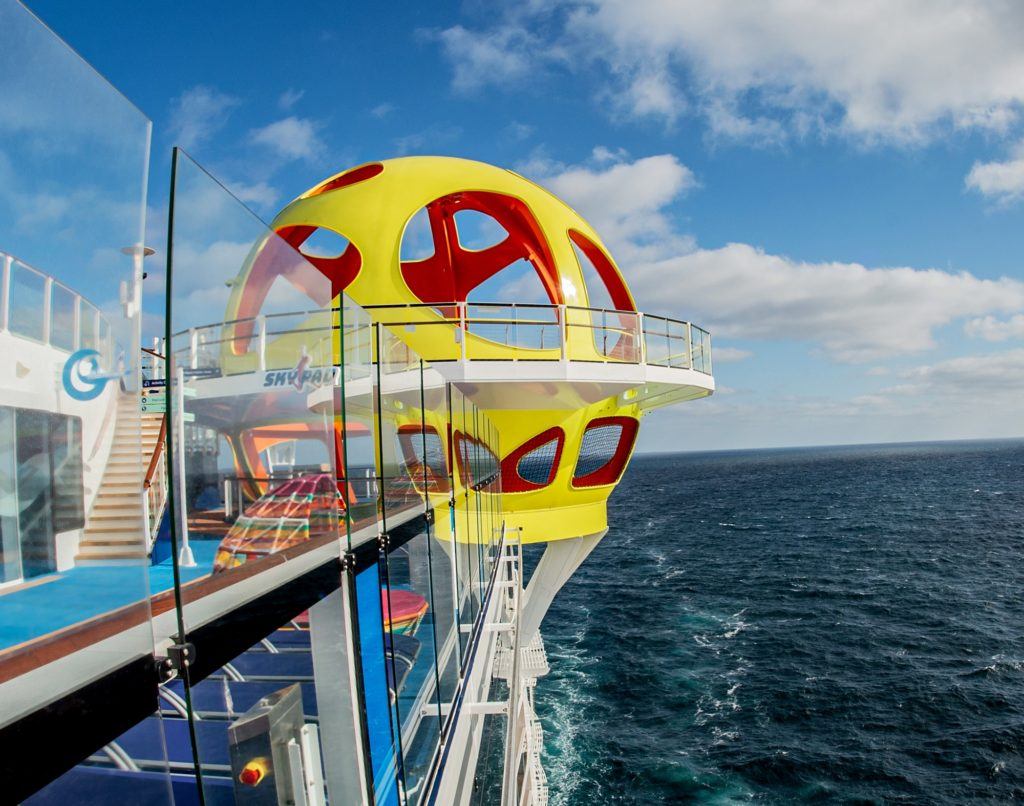 The SeaPlex on Odyssey of the Seas has been reimagined. Debuting on Quantum Class ships, this largest and most revolutionary indoor space at sea yet is home to bumper cars, a sports court, XBox gaming, and more. Not to mention, the popular Playmakers Sports Bar and Arcade has a new home on Odyssey of the Seas. This prime location offers club-level views of the arena below, TVs at every angle, and classic games. 
Brand new on Odyssey is a 4D virtual reality experience, Zone Zero. Unlike other digital games, players will have the ability to freely roam the universe.
Cruisers who love the pool deck on the newly amplified ships in the fleet can rejoice. Odyssey of the Seas features a similar multi-level resort style pool deck. This area is home to two pools, plenty of comfy lounge furniture, and the popular Lime and Coconut Bar.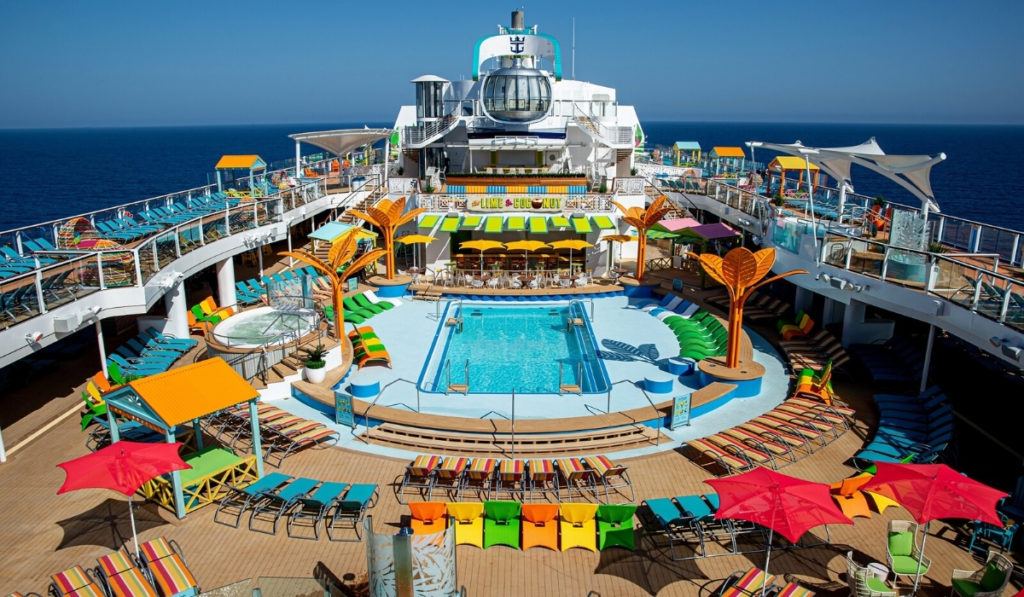 Odyssey of the Seas is also home to numerous complimentary and specialty dining venues. Some complimentary options include the Main Dining Room, El Loco Fresh located near the pool, the Solarium Bistro, and Café Two70.
For specialty restaurants, this new ship delivers a diverse culinary experience. From the Royal Caribbean staple Chops Grille, to the newly imagined Giovanni's Italian Kitchen, Izumi Sushi, the brand-new Teppanyaki, and Wonderland, you can't go wrong.
In terms of entertainment, Odyssey of the Seas features the signature Quantum Class venues, Two70 and the Music Hall. Two70 is an aft located space serving as your living room by day and a multidimensional theater by night. Currently, there is no Broadway show on this ship, but the main theater still hosts a variety of nightly entertainment.
Carnival Mardi Gras
Similar to Royal Caribbean, Carnival Cruise Line's hottest new ship just debuted! Carnival Mardi Gras is the largest ship in the Carnival fleet with several new features and amenities. Thus, she is certainly one of the best cruise ships for 2022.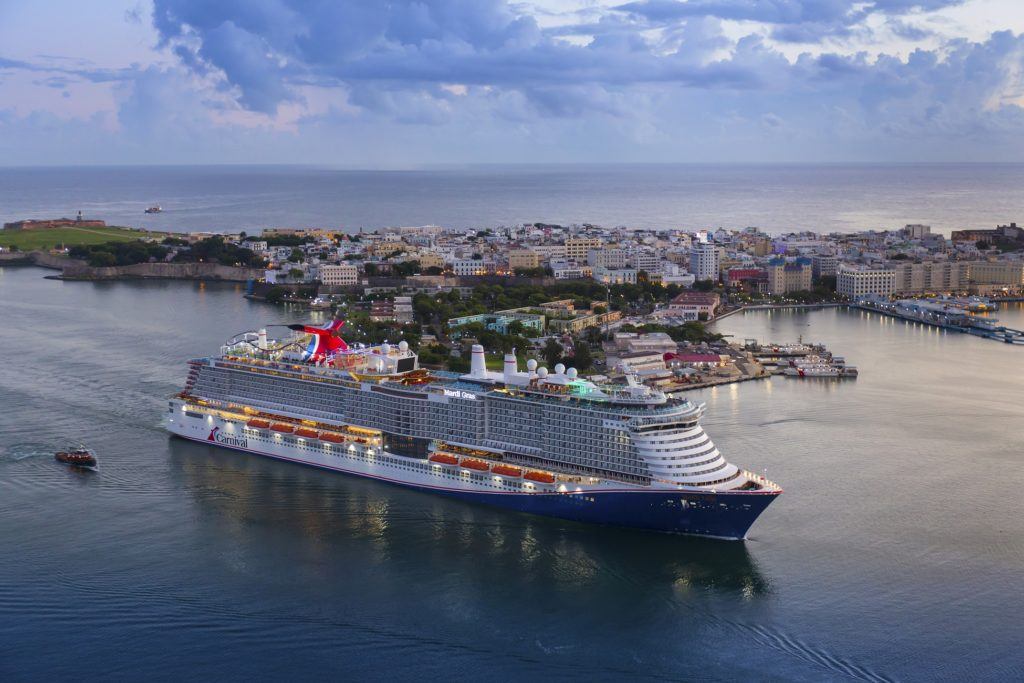 Carnival Mardi Gras is now sailing Eastern and Western Caribbean itineraries from Port Canaveral, Florida, and it will continue to do so throughout 2022.
While paying homage to the original TSS Mardi Gras, this new version features many firsts for the cruise line. With the new "zones" concept, cruisers can enjoy a variety of themed dining and entertainment in these six unique areas.
Carnival Mardi Gras Features
The French Quarter is among the more popular zones on Carnival Mardi Gras. Inspired by New Orleans, the French Quarter feature several bars and restaurants. These include Emeril's Bistro 1396 (a brand-new partnership with Emeril Lagasse), Fahrenheit 555 Steakhouse, and the three craft cocktail bars. The Alchemy Bar, Brass Magnolia, and the Fortune Teller bar are all popular choices.
While the French Quarter is great, you can't miss the Ultimate Playground. This zone debuts the first rollercoaster at sea. Bolt is an all-electric thrill ride that puts you in control as you zip around this open-air course high above sea level. Bolt does require an up-charge to ride. Of course, this zone is also home to the largest WaterWorks, a full mini-golf course, a ropes course, and more.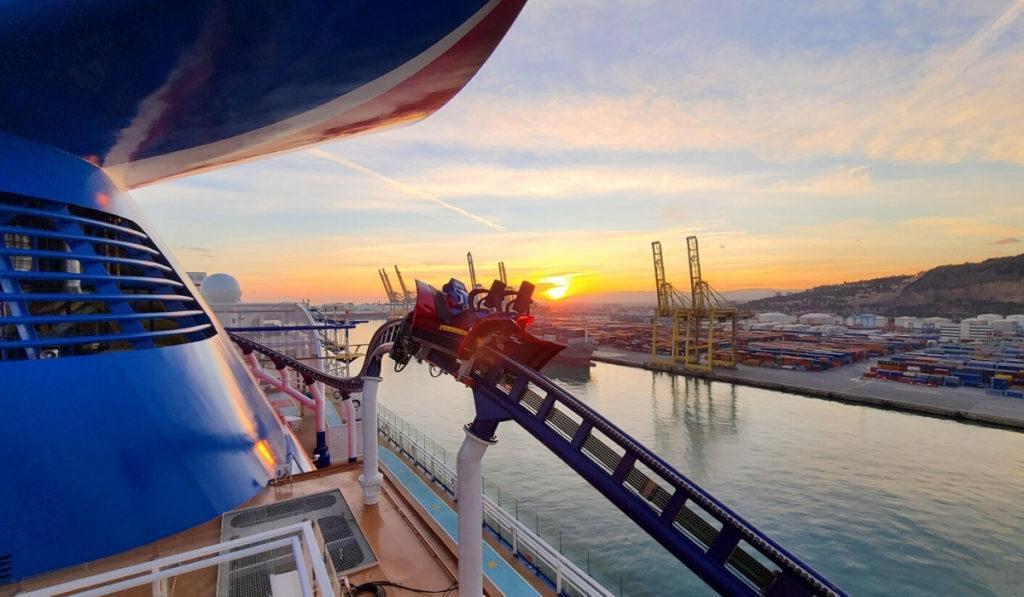 Some other notable additions to Carnival Mardi Gras are Center Stage in Grand Central, the Piazza, and a reimagined Lido Deck. Center Stage is the hub of the typical cruise ship atrium and hosts an abundance of entertainment throughout the day. La Piazza is Mardi Gras' Italian-themed zone. Here, you will find Cucina Del Capitano and the new Piazza Panini and Pizzeria del Capitano.
Lastly, Mardi Gras has taken the typical pool deck to a whole new level. The Red Frog Rum Bar is now the Red Frog Tiki Bar, a two-story watering hole. Guy's Burger Joint has moved up a deck, expanding in size and offering a more outdoor restaurant vibe.
Not to mention, Mardi Gras has debuted Shaq's Big Chicken on the Lido Deck. While we have yet to experience it for ourselves, the reviews speak for themselves. This new quick-service venue gets two thumbs up from cruisers.
Sister ship, Carnival Celebration, will also debut in late 2022, just in time for Carnival's 50th birthday celebration.
Enchanted or Discovery Princess
The fifth Royal Class ship in the Princess Cruises fleet is Enchanted Princess, and Discovery Princess will follow as the last in this class of ships.
Enchanted Princess will begin her inaugural season of 10-day cruises from Fort Lauderdale in November of this year sailing to the Southern and Eastern Caribbean. For the Summer season, the ship will transition to Europe offering Scandinavia and Russia cruises. Then, she will complete a Fall season in New York sailing Canada/New England cruises, before rounding out 2022 in the Caribbean once again.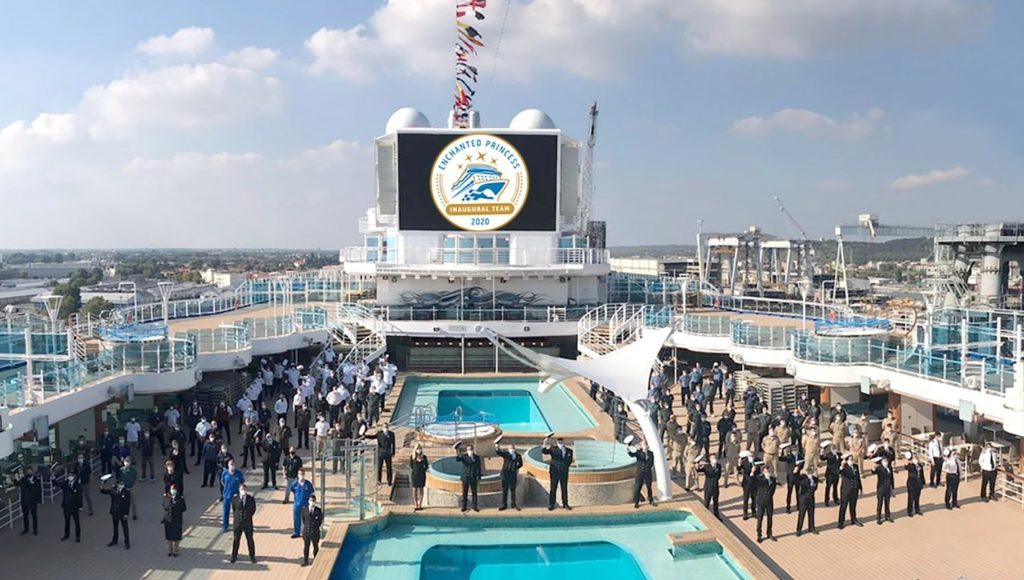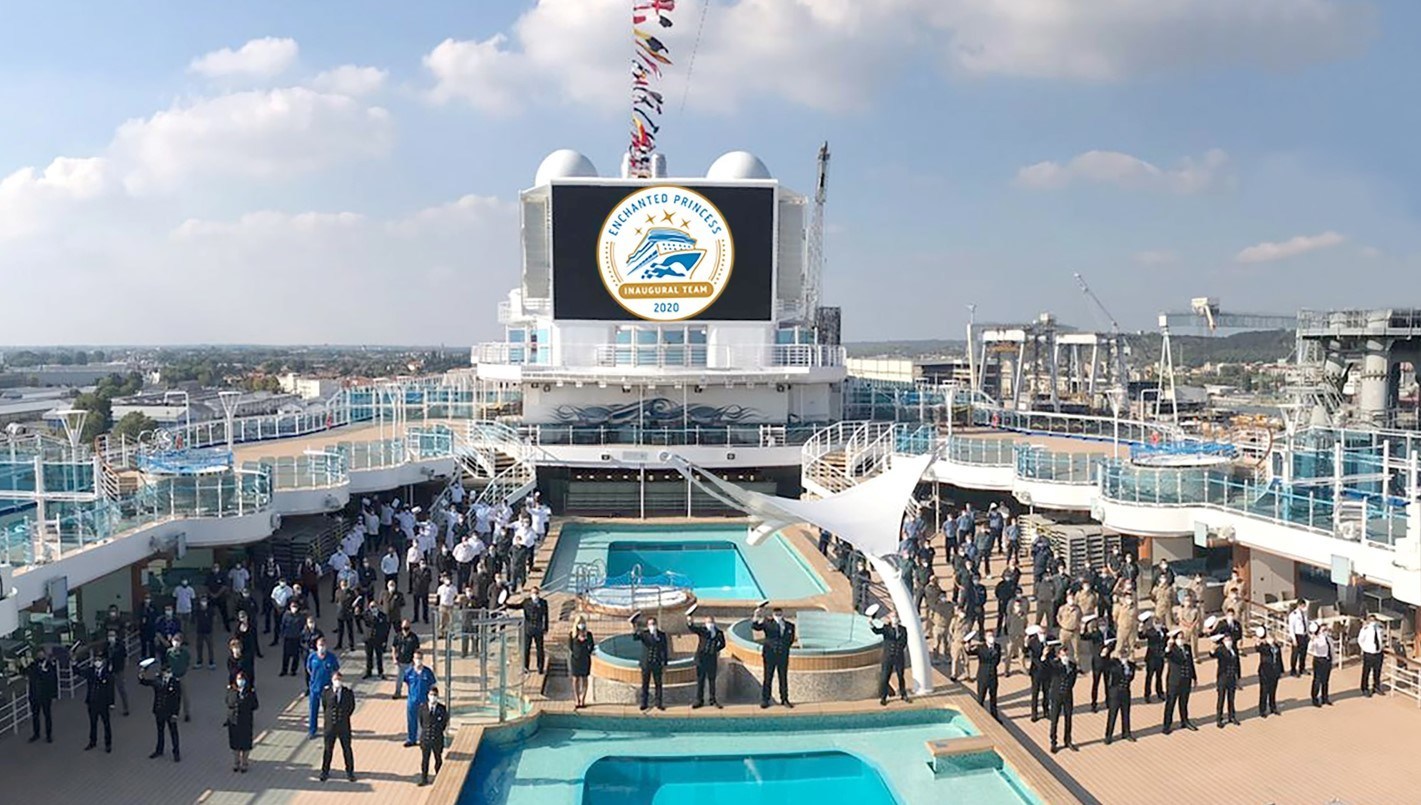 Discovery Princess will debut in the port of Los Angeles in Spring 2022 with California Coast and Mexican Riviera cruises. She will then sail the Summer season in Alaska offering roundtrip cruises from Seattle. Then, Discovery Princess will return to California to round out 2022 with similar West Coast itineraries.
Related Post: Majestic Princess Alaska Cruise Review
Enchanted and Discovery Princess Features
Regardless of which ship you choose, you will be treated to the same Princess MedallionClass experience. With the use of this technology, Princess Cruises can deliver a more contactless and personalized cruise vacation. From ordering on-demand food and beverages, to having your stateroom door unlock as you approach, all of this is possible with the wearable Ocean Medallion.
The ships will share all of the spectacular style and luxury of their predecessors including the overwater SeaWalk and an expansive Piazza, as well as some other enhancements of their own.
Enchanted Princess and Discovery Princess will feature world-class dining. This includes familiar favorites like Bistro Sur La Mer, Crown Grill Steakhouse, and Sabatini's Italian Trattoria specialty restaurants.
Additionally, the ships boast the most pools and whirlpools ever. This includes two pools with sunken seating and the Wakeview infinity pool and bar where you can score some amazing aft views.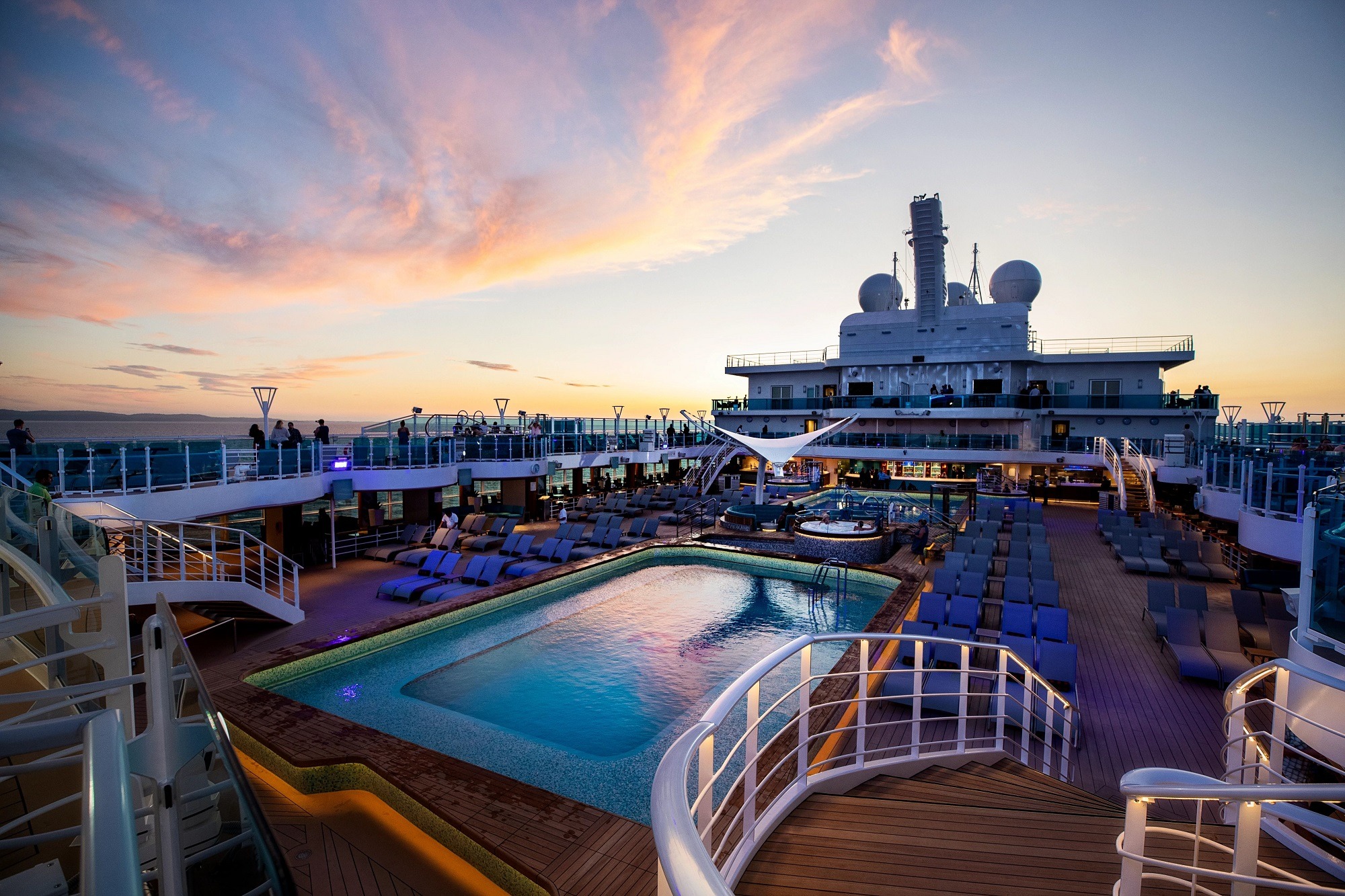 Cruisers can enjoy comedy and other live performances in Princess Live!, original nighttime productions in the enhanced Princess Theater, and the line's signature Movies Under the Stars. Not to mention, relive the Jazz era in the only jazz theater at sea, the new Take Five lounge.
The ships will also feature a redesigned adult-only Sanctuary and the Sky Suites with the cruise line's largest balconies at sea.
Rotterdam
Holland America Line's Rotterdam is the third vessel in the Pinnacle Class series for the brand. This 7th iteration of the historic Rotterdam will feature many of the amenities and innovations found on sister ships Koningsdam and Nieuw Statendam.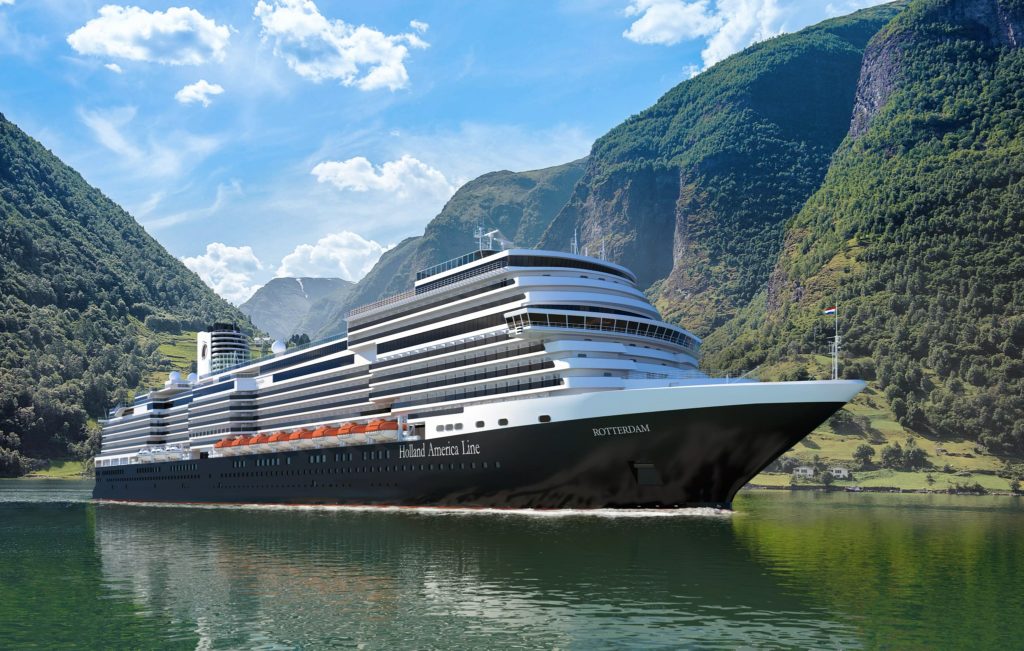 The cruise line took delivery Rotterdam on July 30th of this year. However, the ship will remain in non-guest operations until its transatlantic crossing. This crossing from Amsterdam, Netherlands to Fort Lauderdale, Florida will occur in October 2021. Rotterdam will then begin her maiden season in the Caribbean.
The ship will sail Eastern and Western Caribbean routes for the Winter before transitioning back to Europe in April 2022. Here, she will spend the Summer sailing a variety of itineraries from Amsterdam. Finally, she will reposition back to North America in the Fall to round out the year in the Caribbean.
Related Post: Holland America's Nieuw Amsterdam Review
Holland America's Rotterdam Features
Rotterdam will continue to offer the exquisite dining for which the brand is known, guided by the world's leading chefs. Signature specialty restaurants including Rudi's Sel de Mer, the Pinnacle Grill, Canaletto, and the Pan-Asian Taramind can all be found on this new vessel.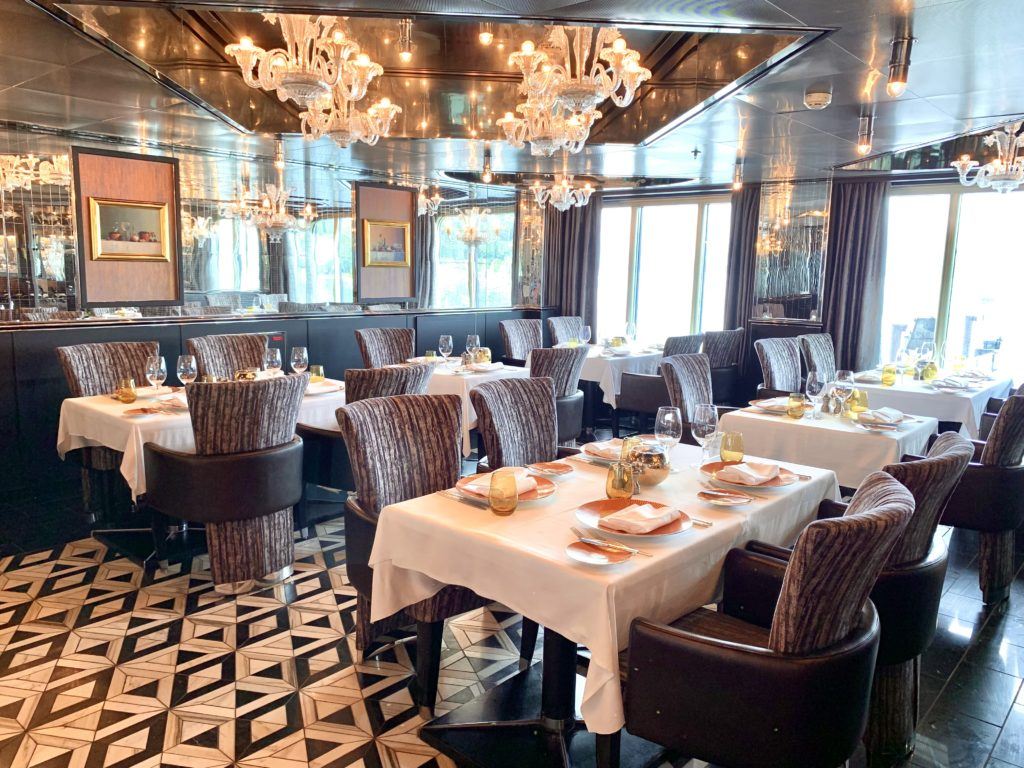 Music is front and center on this new cruise ship, from the decks named after famous composers to several onboard music venues. Repeat HAL cruisers will be glad to find that Lincoln Center Stage, B.B. King's Blues Club, and Billboard Onboard are all present on Rotterdam. Lincoln Center Stage features orchestra performances from talented musicians, while B.B. King's brings the best of soul, blues, and funk to the high seas.
Billboard Onboard is Holland America Line's piano bar with two musicians performing all the chart-topping hits from the decades. New to Rotterdam is the Rolling Stone Rock Room. This venue will feature an exclusive collection of world-class rock performances nightly. Of course, there is also the 270-degree surround-screen World Stage, elevating main theater entertainment to the next level.
With well-appointed staterooms and unique itineraries, Rotterdam is sure to appeal to those globetrotters looking for great dining and enriching entertainment.
Viking Mississippi (Or Several Other New Builds)
2022 is a big year for Viking. The luxury brand is debuting several new vessels next year. From ocean ships Viking Mars (early 2022) and Viking Neptune (late 2022) to expedition vessels Viking Octantis (early 2022) and Viking Polaris (mid 2022), the brand is giving cruisers plenty of options to explore the world in comfort.
Though perhaps, the most highly anticipated ship to debut in 2022 for the brand is Viking Mississippi. To further its destination-focused itineraries, Viking is bringing river cruising closer to home for many guests. Viking Mississippi is the new 386-guest vessel that will launch in America's heartland in August 2022. Upon debut, it will be the most environmentally friendly passenger ship on the Mississippi River.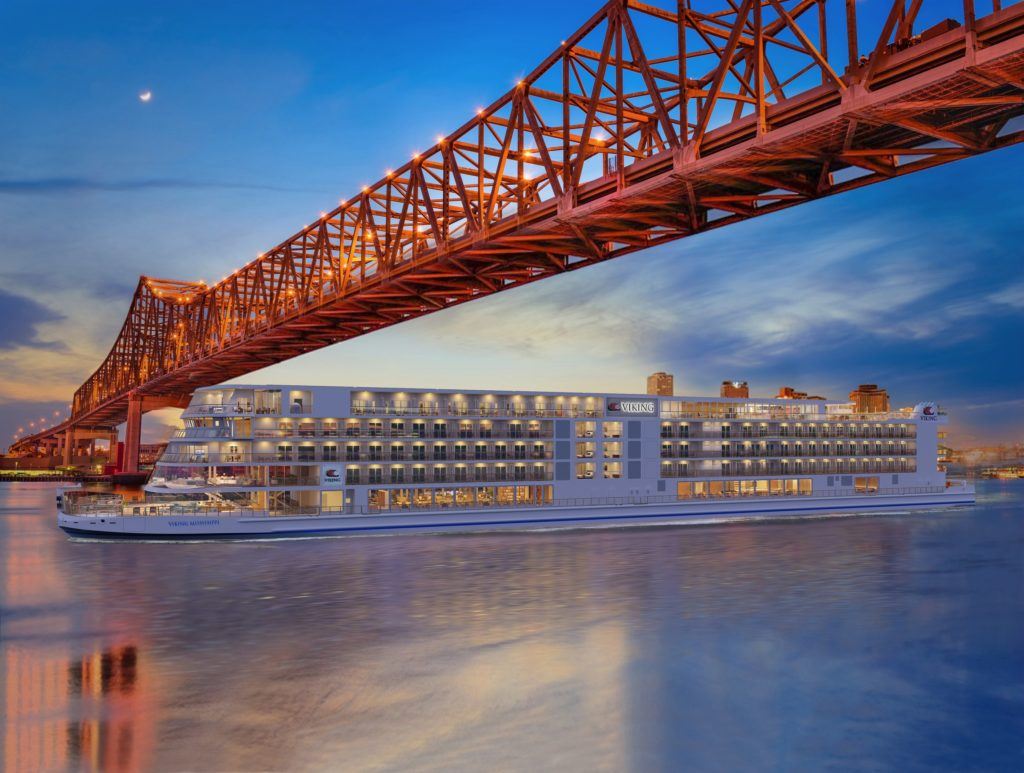 This modern river vessel will sail voyages between New Orleans, Louisiana and St. Paul, Minnesota, providing a commitment to U.S. tourism in many communities along the river. The 2022-2023 inaugural season will offer 4 different cruise itineraries.
Viking Mississippi Features
Viking Mississippi will be inspired by both the brand's iconic river and ocean ships. All rooms will feature a veranda or French balcony, a king-sized bed, a large glass-enclosed shower, heated bathroom floors, 24-hour room service, and other luxury amenities. Which is why it tops our list of the best new cruise ships of 2022.
This 5-deck ship, purpose-built for the Mississippi River, will be the largest and most modern vessel in the region. It will feature Viking's signature Scandinavian design, expansive windows, and other comfortable amenities.
Repeat cruisers will recognize many of the venues too. These include the Explorers' Lounge, the Living Room, the Restaurant (Viking's main dining room), and the Aquavit Terrace. The Explorers' Lounge will be a two-story venue that opens to The Bow, a new outdoor seating area all the way forward on the ship.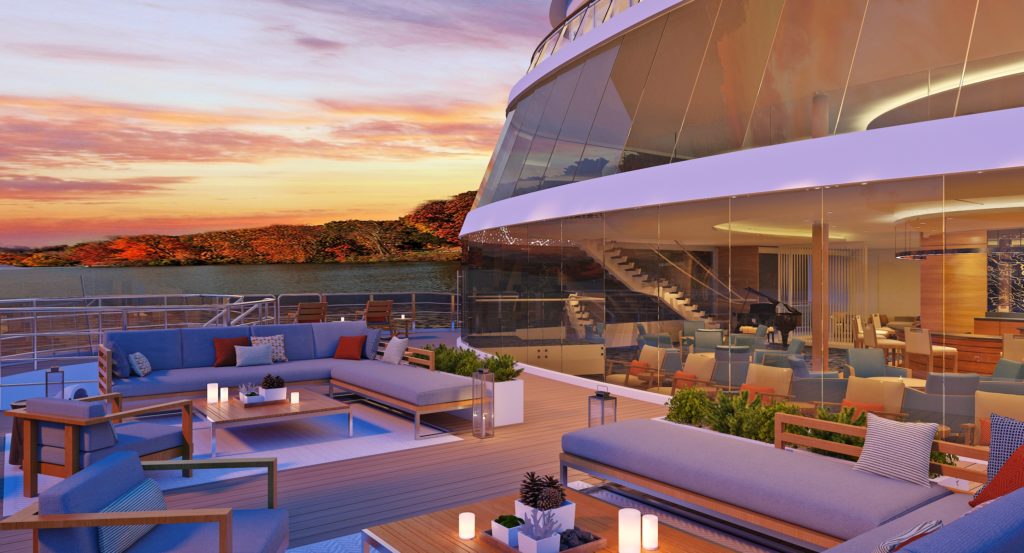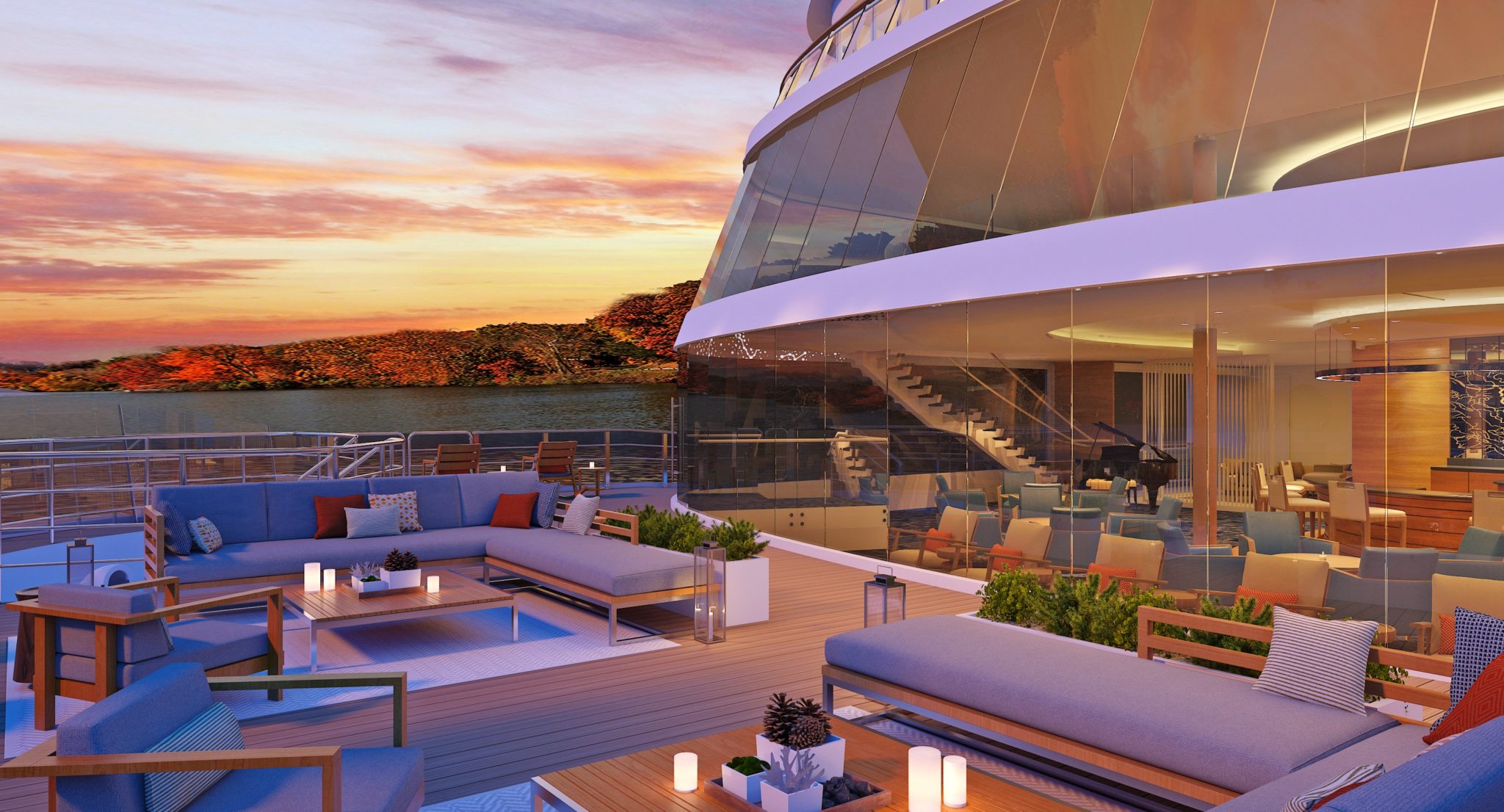 In addition, the ship will debut the new River Café. This indoor/outdoor venue will offer alternative dining in an al fresco setting with American classics and Mamsen's Norwegian specialties.
Similar to Viking's ocean ships, this vessel will have an infinity plunge pool, so guests can take a dip while enjoying the scenic views. There will also be a 360-degree outdoor promenade on Deck 1. 
Of course, Viking will extend its all-inclusive value to these Mississippi River cruises as well. This means that guests will receive one complimentary shore excursion in each port of call. Guests can also expect all onboard meals including specialty restaurants, beer and wine with lunch and dinner service, 24-hour room service, and Wi-Fi for no additional costs.
Related Post: Everything Included on Viking Cruises
So, there you have it. These are our picks for the best cruise ships for 2022. Do you have plans to sail on any of these new vessels?
Comments
Which of these best new cruise ships for 2022 are you most excited to check out? Are you already booked on any of these ships? Drop us an anchor below to share your 2022 cruise plans.
The post Best Cruise Ships For 2022 appeared first on EatSleepCruise.com.