On our ultimate Southern road trip, we knew we had to stop off in Helen, Georgia along the way. It's an infamous Bavarian inspired alpine village in the foothills of the Appalachian Mountains.
While we weren't super impressed with Helen itself, we were incredibly excited to stop into an authentic German eatery in Helen. It's called Bodensee and it was every bit as wonderful as our highest expectations!
Check out this video:
Bodensee is named for a lake along the Rhine that sits at the northern foot of the Alps. The restaurant was started by Romanian Chef Aurel and his wife, Doina. Aurel is a classically trained chef and after culinary school he and Doina moved to Bavaria (in the 80s). They were there for years before moving over to the States and starting this restaurant in Helen.
Everything about Bodensee is made from scratch with love and the authenticity of German cuisine. We've been around the German blog (so to say) a few times, and we've never had such an authentic experience on American soil. It was truly a treat!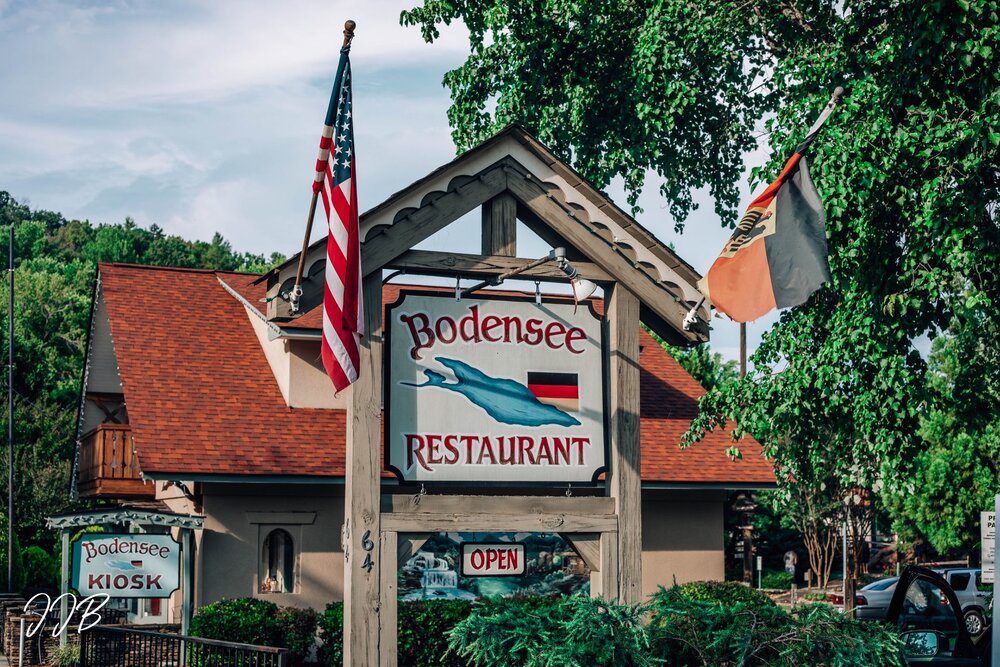 We started our meal with some yummy goulash and then launched into a sampler platter. Let's go over these goods…
Sauerbraten: A traditional German roast made from heavily marinated beef (but can be other meats like venison). The meat is usually marinated for several days in order to really soak in those flavors and become so tender you can't pick it up without it falling apart on your fork. Sauerbraten has a hearty, tangy, and savory flavor that goes great with the traditional German sides (see below) and some bread.
Schweinebraten: Very similar to Sauerbraten, Schweinebraten is a traditional German roast made from heavily marinated pork. It's also left to marinate for several days and comes out with the same tender texture and tangy and savory flavors.
Beef Rouladen: These are yummy beef rolls filled with bacon (or other form of pork), onions, mustard and pickles. It's then browned in a pan with a ton of delicious gravy that gives it the traditional rich flavor.
Smoked Pork Chops: I think this one might be self-explanatory. It's a delicious, tender pork chop that's smoked in-house and it's made even more delicious with the gravy from the beef rolls.
Homemade Garlic Sausage: These sausages are heavenly! Even though they're garlic sausage, they don't hit you over the head with the garlic flavor. They're perfectly balanced and rich. On the sampler platter they're on top of that yummy gravy, which just makes it even better! Chef Aurel makes these sausages in-house at Bodensee, so they're super fresh!
Schnitzel: A thin slice of meat fried with a yummy coating. It can be anything from veal to pork or even chicken. You can get several variations at Bodensee, but we enjoyed the veal. And, for the record, we haven't met a schnitzel we don't like!
Spätzle: This is a condensed egg noodle that Chef Aurel and his kitchen staff make fresh daily. The best way we can describe the flavor is like a very soft, pillowy (almost spongy in a good way) piece of pasta. It's a great pairing with the heavily marinated and gravy drowned meats.
Sauerkraut: Pickled cabbage. The tangy flavor and light texture balances out the heaviness of the traditional German main-courses.
Red Cabbage: Unlike sauerkraut, the red cabbage is usually sweeter. Jenni typically doesn't enjoy it, but at Bodensee the flavors were so perfect balanced that she actually really liked it. The sweetness pairs with the tart sauerkraut to break up the heavy savory foods.
German Potato Salad: Soft chunks of potatoes, warm, and tart. Another great pairing for the heavy meats.
And for dessert (we were stuffed but still ate it) we had scratch-made apple strudel. It was so unbelievably delicious and wonderful and was worth the overstuffed feeling afterwards! Plus, Doina hooked us up with a shot of German schnapps to settle our stomachs.
Is schnapps just part of our brand now?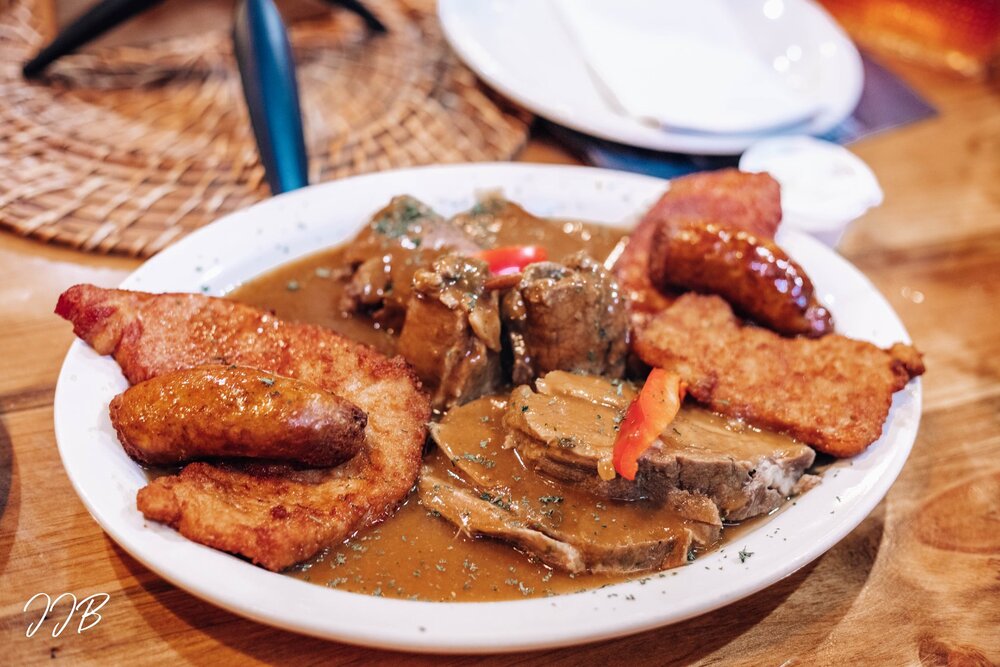 We had such a fun time at Bodensee! Great people. Yummy food. And an atmosphere filled with smiling happy people. There wasn't a frown on anyone's face the entire time we were there!
Aurel and Doina have created this environment of joy, laughter, food, and family that is worth the five hour drive from Florida. We would make the trip just to enjoy some Bodensee food!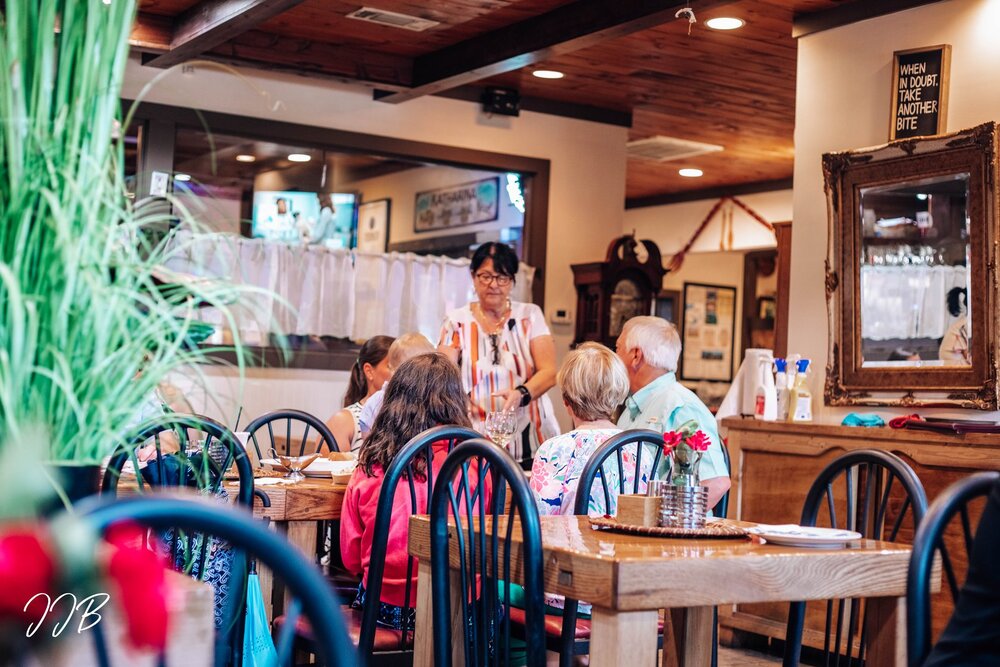 A very special thank you to Chef Aurel and Doina for allowing us to come in and feature your amazing restaurant. We can't wait to come back to Helen and dine with you again.
If you'd like to support this wild ride, become a Patron, we have some awesome reward tiers. Sometimes we even pick up little gifts for you along our travels.
Pin this post with the graphic below: