There is Uganda that everyone who has ever visited or dreamt of visiting knows about, and then there is Uganda that only the locals know about. Companies who lead photo tours often think that their clients only want to see the Gorillas and Safari. For most visitors, that is enough; however, on our photo tours with Triple F Photo Tours, we are more than just taking amazing photos in unique settings.
Whether Uganda or Costa Rica or India, we aim to introduce our clients to off-the-beaten-track places and immerse them in the local culture. After all, meeting the locals is what travel is all about. 
Doing this also creates incredible photography opportunities.
Having grown up in Canada but originally from Uganda, every time I go "home," I venture off the beaten path with and without my clients to discover why Uganda is truly the "Pearl of Africa."
Below are, in my opinion, off-the-beaten-path spots not to be missed when travelling through Uganda. 
Even if you have been there and missed these magical spots the first time, do yourself a favour and make sure you don't miss them on a subsequent trip. I will also provide some photography tips to make these off-the-beaten-path spots even more memorable.
How many times have you been through a trail or forest track only to come upon a hole in the forest floor with a hidden cave? This is precisely what you will find in Amabere Ga Nyina Mwiru, which means "breasts of the mother of a slave."
This tremendous cultural site is located just outside Fort Portal and surrounds a legend told by the Batoro peoples, who claim that the King had a daughter. When she married, the King worried that her heirs would overthrow him, so he cut off his daughters' breasts and threw them down into the cave.  
The cave is framed by stalagmites and stalactites, which the Batoro people claim is the milk from the daughters' breasts. There is also a beautiful waterfall you cannot see until you climb down into the cave.
Photo Tip: I did not carry a tripod on my only trip, as I wanted to travel light. So, to slow my shutter speed down to get the smooth flow of the waterfall, I laid down on the slippery rocks to get the shot. Not everyone wants to carry cumbersome tripods, so don't be afraid to improvise. Another tip is to purchase a bean bag that is easy to fill up with sand when needed and empty when not in use.
I suggest the Benro GoPlus Travel Tripod if you want a tripod because it's nice and light and does the trick every time.
For a bean bag, I suggest the LensCoat LensSack Beanbag Camera Support.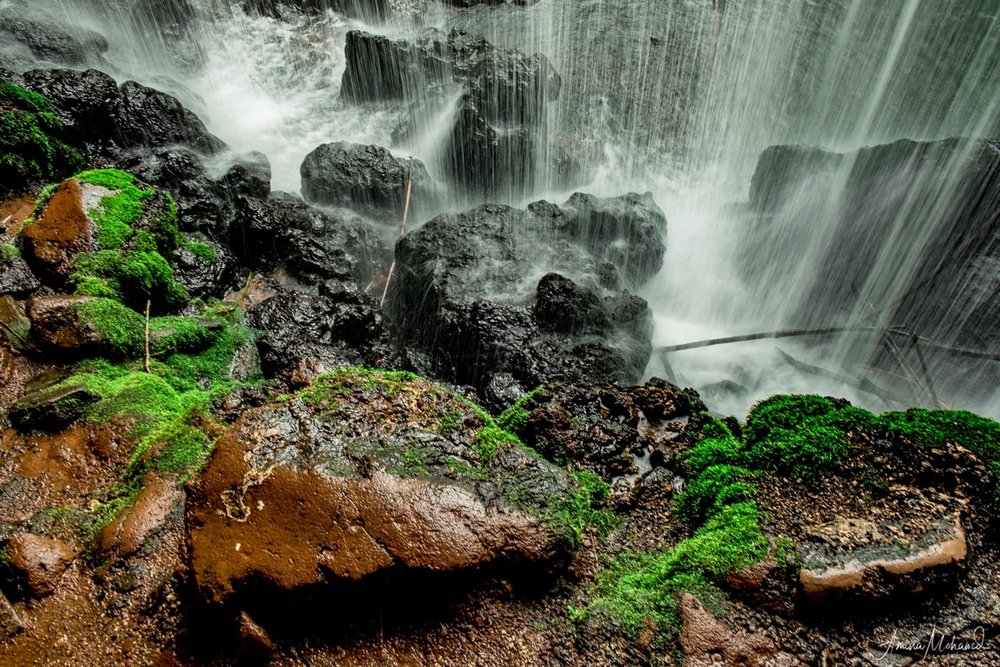 #2 – Lake Bunyoni
I visited Lake Bunyoni on my third trip to Uganda.  Lake Bunyoni is located in a remote area of southwestern Uganda near Rwanda between Kisoro and Kabale. I did not know what to expect when my guide and friend Venex of Rwenzori Safaris spoke about Punishment Island, located on Lake Bunyoni.
Up until the mid-1940s unwed women who got pregnant were taken by force to this small man-made island in the middle of the lake and left there to die under the hot sun. Many of these young women did not know how to swim, so they had two choices, stay on the island until the cold and the hunger overtook them or try to swim and ultimately die in the depths of the lake.
Some were saved by men who lacked a dowry. Thus by saving a girl and marrying her, they escaped the dowry payment, usually paid by livestock.
Besides Punishment Island, there's lots to explore, either by self-driven canoe or via a boat ride around the lake. Lake Bunyoni translates to mean the area of small birds, and I was so happy to see so many gorgeous birds, including the Pied Kingfisher, Grey Crowned Cranes, Weavers, Egrets and African Harrier Hawks, to name a few.
After touring this fantastic little gem, you can go for lunch or even stay at the Lake Bunyoni Eco Resort. I did not stay here because it was a day trip, but we had a fabulous lunch with a great view of Lake Bunyoni.  
Photo Tip: Bring a wide-angle lens for the incredible landscapes you will see and a telephoto lens for the birds you will see, mostly sitting far off on the shoreline.
#3 – Sempaya Hot Springs 
The Sempaya Hot Springs are located within Semuliki National Park at the edge of the great Ituri forest spanning the borders of Uganda and the Democratic Republic of Congo. 
I always make a point to visit this area when travelling around Fort Portal, located in the Kasese district of Uganda.
When one hears of a hot spring, one thinks of basking in the thermal waters, but unfortunately, these are not those kinds of hot springs. There are two hot springs – one is the male, that boils at temperatures up to 100 degrees Celcius. The male hot spring is commonly known as Biteete and spans 12 meters in width, and is also relatively flat. In contrast, the female hot spring is commonly known as Nyansimibi and has a geyser that gushes about 2 meters in the air.
Folklore surrounds this area, as the local Bamaga Clan tells of how Biteete was found naked and alone in the forest when Nyansimbi found him. They married, and years later, Biteete was out hunting but never returned. The clan believes that the gushing geyser is Nyansimbi's tears for the loss of her spouse.
To get to the Sempaya Hot Springs, you must traverse through the Semuliki Forest. It's an easy walk unless it is the rainy season as it gets pretty muddy and slippery. 
Overhead, while walking through the forest, you will hear the howls and screeches of the resident primates, including chimps (rarely seen), the black and white colobus monkeys, baboons, grey-cheeked mangabey and the red-tailed monkey's to name a few.
Photo Tip: When photographing near the hot thermal waters, the high temperatures can melt your gear, so make sure you have protective rain gear or a protective weatherproof bag.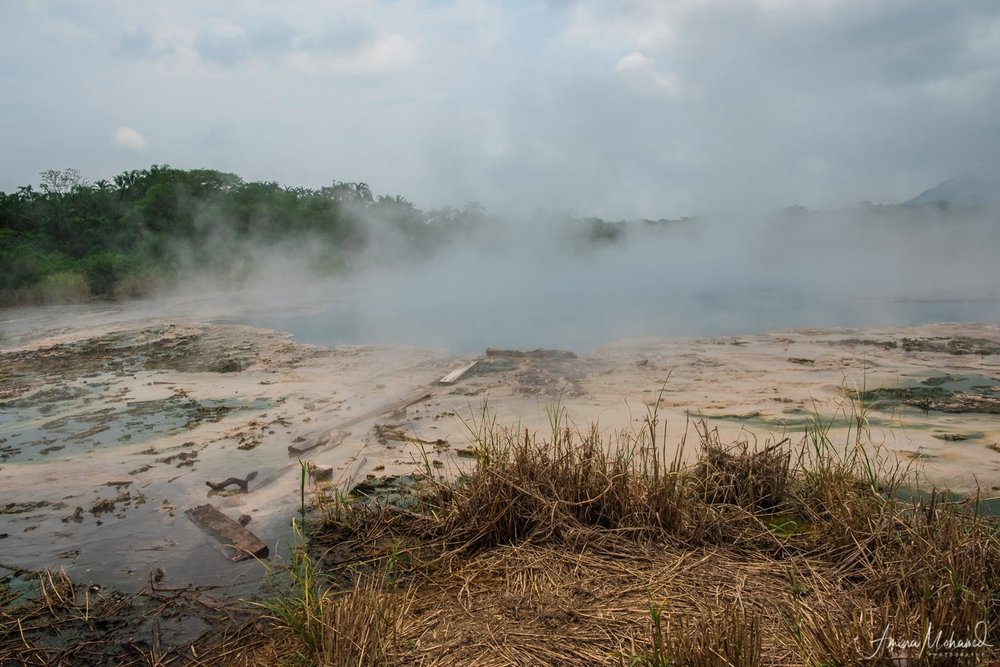 #4 – Chimpanzee Habituation in Kibale Nationa Park
I have done Chimpanzee trekking in Kibale National Park, and while available, the habituation experience is not widely advertised. The Chimp trekking was spine-tingling – literally! While on our trek, a huge male chimp came running right past me and scampered up the nearest tree. I was shaking not from fear but from the exhilarating experience of seeing these gentle giants up close and feeling his breath on the back of my neck. I managed to get a photo as it ran up the tree.
Most people, including me, think that when they are screeching, they are about to attack or are angry. It actually is a call to other chimps in their family circle to join them.
The Chimp trek is one hour after locating the chimps, but the habituation experience is 6 hours. The difference is that you follow a guide on the trek until you find the chimps, and from there, you have one hour to take as many photos as you can. It's a quickly-paced event because, in many cases, you are running after the guide through the brush and tangle of the forest, hoping not to fall while searching high and low for the chimps. 
In contrast, the chimp habituation experience is a slow-paced activity because chimps, on average, take approximately three years to get used to humans. In this activity, you sit down near the chimps and observe them in their environment, interacting with their caretakers.
With the chimp trek, you can book a few days in advance, whereas the chimp habituation requires at least a 3-month prebooking and also costs much more. The chimp trek costs $150 USD, and the habituation costs $220 – $250 USD, depending on the time of your visit.
Photo Tip:  Make sure you have two lenses with you – one for close-up portraits and another telephoto lens (at least 300mm) to photograph the chimps high up in the trees.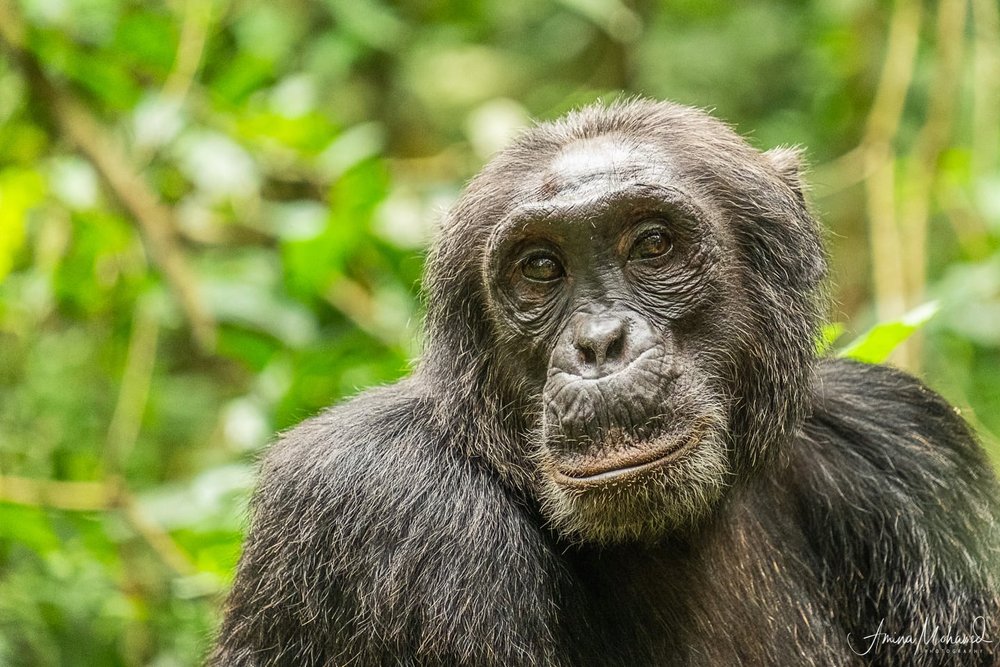 #5 – Bwindi Impenetrable Forest Hike to Lake Mutanda
Most people come to Bwindi for the incredible experience of viewing the Mountain Gorillas, but very few know of Lake Mutanda, an off-the-beaten-path locale that is not well known.
You can either reach the Lake Mutanda by driving there or via a combined hike and canoe adventure. Lake Mutanda is a freshwater lake in the far southwestern part of Uganda. The views from this lake are outstanding as you can see the views of the Virunga Mountains.  
Locals call this the best spot to relax after the sometimes arduous trek to see the gorillas. It also provides viewing access to see the three dormant volcanoes: Mount Muhabura, Mount Sabyinyo, and Mount Gahinga.
It's also a great place to hike, but can be physically demanding at the same time as the terrain is rocky with a gradual incline, so make sure you pack those hiking boots with a good tread. You will be rewarded with incredible photographs for those who decide to venture here.
Photo Tip:  Not only will you want a portrait lens for the mountain gorillas you will see within Bwindi Impenetrable Forest, but you will want a wide-angle lens for the incredible landscapes you will see on Lake Mutanda.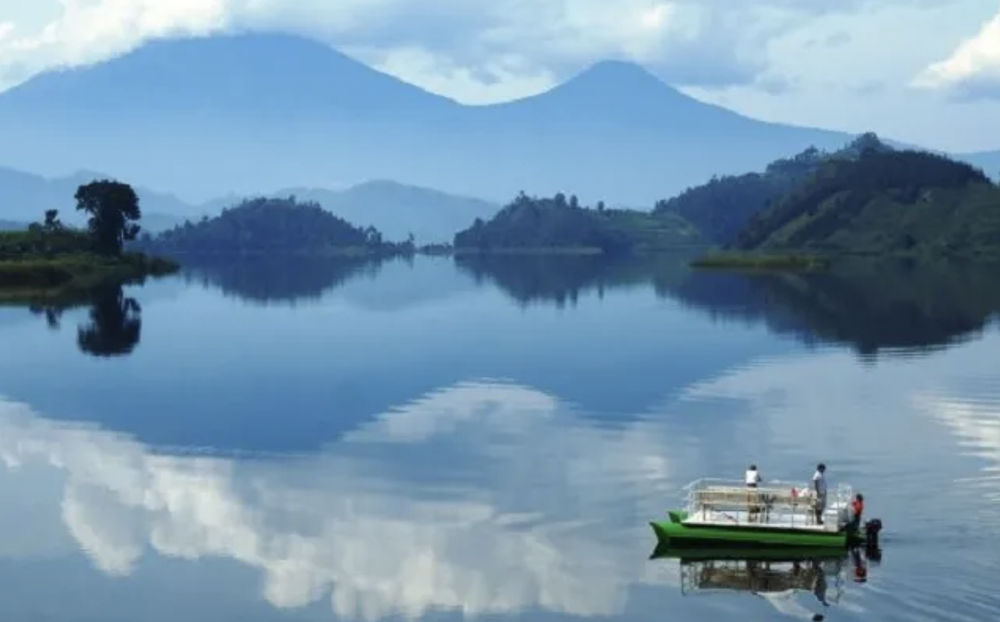 So there you have it! 5 Incredible Off the Beaten Path Spots To Photograph in Uganda.
Our next photo tour to Uganda will be a combined one with Tanzania.
Watch our website for news to come in early 2022.